Carrot & Semiya Payasam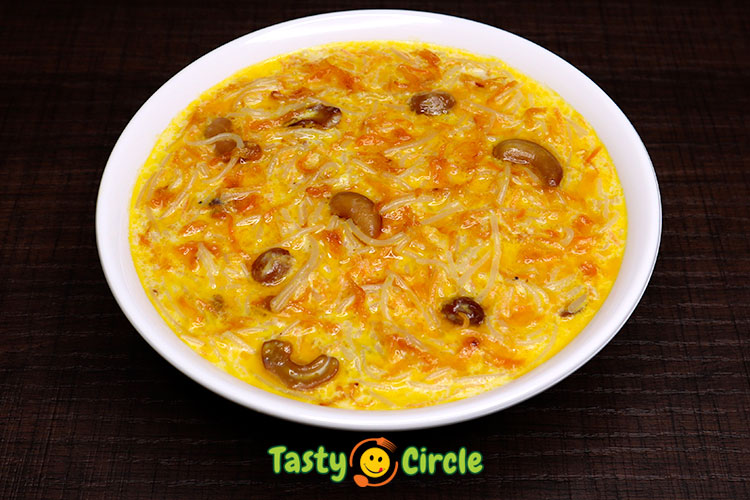 Watch Video (മലയാളം)
Carrot and Semiya Payasam
With a nutritious twist in the all time favourite sweet dish of Indians, here is a yummy Carrot and Semiya Payasam Recipe. With the right amount of all things good, this dessert is a treat to the tastebuds. Here we follow the traditional Semiya Payasam recipe with the goodness of Carrots.
INGREDIENTS
Ghee / Clarified Butter

നെയ്യ് - 4 Tablespoons

Cashew Nut

കശുവണ്ടി - ¼ Cup (30 gm)

Raisins

ഉണക്കമുന്തിരി - 2 Tablespoons (20 gm)

Finely Grated Carrot

കാരറ്റ് - 2 Cups (200 gm)

Sugar

പഞ്ചസാര - ¾ Cup (150 gm)

Milk

പാൽ - 1.5 Ltr

Semiya / Vermicelli

സേമിയ - 1 Cup (100 gm)

Cardamom Powder

ഏലക്ക പൊടിച്ചത് - ½ Teaspoon
INSTRUCTIONS
Heat 3 tablespoon of Ghee in a pan and add ¼ cup of Cashews; mix well. Make sure that the flame is in a low level. When the Cashews turn golden brown, add 2 tablespoon of Raisins and stir well. When they also turn golden brown, turn off the flame and quickly shift the contents into another plate.

Turn on the flame and keep it in a medium level. In the same pan, add 2 cups of finely grated Carrots. Stir continuously and cook the Carrots. When the Carrot is well cooked, add ¼ cup of Sugar and stir continuously. After stirring for around 1½ minutes, sugar will combine well. You may take some from this for garnishing at the end. Add ½ cup of Milk and stir. When it boils well, turn off the flame and keep it aside.

Take a pan with minimum 3 litre capacity. Heat 1 tablespoon of Ghee in it. When the Ghee is hot, turn down the flame to medium level. Add 1 cup of Semiya (Vermicelli) into it. Stir continuously, as it tends to burn fast since we've added more Ghee to it. It will turn light golden colour on roasting for 1-2 minutes. At this stage, you should quickly add ½ cup less than 1½ litre of Milk. We've added that ½ cup of Milk while cooking Carrots. Stir continuously till the Vermicelli is 75% - 80% cooked. If not stirred, milk skin will be formed and also the bottom tends to burn. Till the Milk boils, the flame should be on a high flame; when it starts to boil, turn down the flame to a medium level. Required 75% - 80% cook will be attained by 4-7 minutes.

Add ½ cup of Sugar and stir well. This much Sugar will be adequate for a medium level sweetness. You may adjust the sweetness according to your preference. After combining the Sugar, add in the Carrot mixture. Add ½ teaspoon of crushed Cardamom. Mix and combine well for 1 more minute. Now, add the fried Cashews and Raisins.

Turn off the flame and let it set for atleast 20 minutes. By that time, with the heat in the pan, it will be perfectly cooked. Take care to add Sugar ONLY when Semiya is 75% - 80% cooked. Vermicelli won't cook properly if Sugar is added beforehand.
NOTES
After cooling down, if you feel that the Semiya Payasam is thick, mix some hot Milk and loosen it.
Copyright © 2013 - 2023 Shaan Geo. All Rights Reserved.
According to me cooking is an equal-opportunity talent and I find that anybody can cook. It is not limited by the age, profession, caste, colour or creed of a person. What is needed is the love for cooking. For me the passion for cooking does not stop in the kitchen, when I travel, I continue to be inspired by eating in some of the best restaurants around the world.
One comment on "
Carrot & Semiya Payasam

"