Dalcha (Mutton)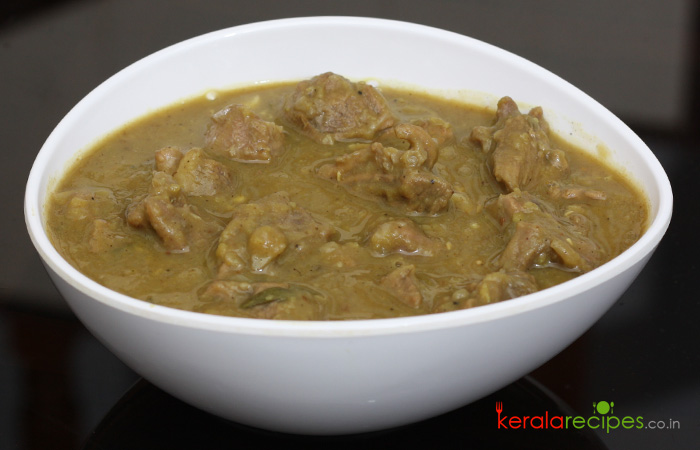 Dalcha (Mutton)
Dalcha is a popular Indian side dish made from mutton and dal. It is usually served as a side dish for rice, biryani, pulao, chappathi etc. Dalcha is flavored with ginger, garlic and spices. Here you go with the recipe.
INGREDIENTS
Mutton

ആട്ടിറച്ചി - 1 kg

Split bengal gram

Chana dal / കടലപ്പരിപ്പ് - 1 Cup

Split green gram

Moong dal / ചെറുപയറുപരിപ്പ് - ¼ Cup

Split red lentil

Masoor dal / ചുവന്നപരിപ്പ് - ½ Cup

Tamarind pulp

വാളന്‍പുളി പള്‍പ്പ് - 4 Table spoon

Coriander powder

മല്ലിപ്പൊടി – 2+1 Table Spoon

Turmeric powder

മഞ്ഞള്‍പൊടി - 1½ Tea spoon

Cumin powder

ജീരകംപൊടി - 1 Tea spoon

Cumin seeds

ജീരകം - 1 Tea spoon

Cinnamon

കറുവാപ്പട്ട – 4 Inch piece

Clove

ഗ്രാമ്പു - 10 Nos

Cardamom

ഏലക്കാ - 8 Nos

Green chilli

പച്ചമുളക് – 8 Nos

Ginger-Garlic paste

ഇഞ്ചി-വെളുത്തുള്ളി അരച്ചത്‌ - 1 Table spoon

Garlic

വെളുത്തുള്ളി - 15 Cloves

Onion

സവോള - 4 Nos (medium size)

Coriander leaves

മല്ലി ഇല - 4 Sprigs

Curry leaves

കറിവേപ്പില - 2 Sprigs

Cooking oil

എണ്ണ - 4 Table Spoon

Ghee

നെയ്യ് - 4 Table spoon

Salt

ഉപ്പ് – to taste
INSTRUCTIONS
Cut mutton into small pieces, wash and drain it.

Chop onions, garlic (15 Cloves) and coriander leaves. Slit green chilli length wise.

Wash split bengal gram, split green gram, split red lentil. Soak in water for 30 minutes and drain it.

Pressure cook it by adding turmeric powder (½ tea spoon), salt and water (4 cups).

Mash it and keep aside.

Heat 4 table spoons of cooking oil in a vessel and put cinnamon, cloves and cardamom. Stir it for few seconds and proceed to add ginger-garlic paste, green chilli and onion one after another. Saute it in a medium flame.

When it turns golden brown, put coriander powder (2 table spoon) and turmeric powder (1 tea spoon). Stir it for 1 minute. Add mutton, curry leaves and salt as needed. Increase the heat and stir it for 3 minutes. Add 4 cups of water, combine well and cook it covered till done. (When it starts boiling reduce the heat to medium).

Add the cooked and mashed dal (lentils) into the prepared mutton. Combine well and cook it for 5 minutes.

Heat 4 table spoons of ghee in a cooking pan. Reduce the heat to low and put cumin seeds. When it splutter, add chopped garlic and stir it for 1 minute. Put 1 table spoon of coriander powder and 1 tea spoon of cumin powder. Stir well for few seconds.

Add this to the prepared Dalcha along with the tamarind pulp and cook it for another 5 minutes.

Garnish with chopped coriander leaves.
NOTES
1) You can also prepare 'dalcha' with any one the of dal (preferably split bengal gram / chana dal).
2) Adjust the spices according to your taste.
Copyright © 2013 - 2023 Shaan Geo. All Rights Reserved.
According to me cooking is an equal-opportunity talent and I find that anybody can cook. It is not limited by the age, profession, caste, colour or creed of a person. What is needed is the love for cooking. For me the passion for cooking does not stop in the kitchen, when I travel, I continue to be inspired by eating in some of the best restaurants around the world.
4 comments on "
Dalcha (Mutton)

"