Kalan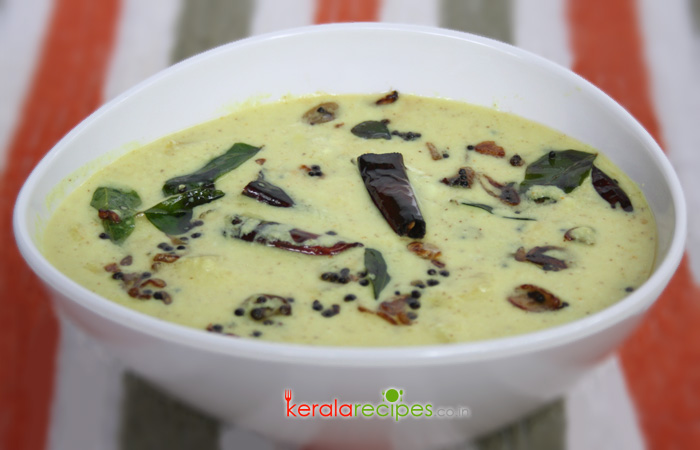 Kalan Recipe
Kalan is a curd based raw plantain – yam curry. It holds a unique position in Sadya particularly Onam Sadya (a traditional vegetarian banquet served in plantain leaf). The main difference between kalan and other curd based curries are it has a much thicker consistency and it uses pepper powder as one of the ingredients. Here you can try a kalan recipe which is commonly served across Kerala. It has many other variations like rasa kalan, katti kalan or kurukku kalan etc.
INGREDIENTS
Raw Plantain

Raw banana / നേന്ത്രക്കായ് - 1 No

Elephant foot yam

ചേന - 100 gm

Green chilli

പച്ചമുളക് - 4 Nos

Turmeric powder

മഞ്ഞൾപൊടി - a generous pinch

Pepper powder

കുരുമുളകുപൊടി - ½ Tea Spoon

Ghee

നെയ്യ് - 1 Table spoon (optional)

Grated coconut

തേങ്ങ ചിരണ്ടിയത് - 1 Cup

Cumin seeds

ജീരകം - ¾ Tea spoon

Curd

തൈര് - 3 Cup

Coconut Oil

വെളിച്ചെണ്ണ - 1 Table spoon

Mustard seeds

കടുക് - 1 Tea Spoon

Fenugreek seeds

ഉലുവ - ½ Tea Spoon

Dry red chillies

വറ്റൽമുളക് - 4 Nos

Curry leaves

കറിവേപ്പില - 2 Sprigs

Water

വെള്ളം - 1 Cup

Salt

ഉപ്പ് – to taste
INSTRUCTIONS
Peel the skin of plantain and elephant foot yam. Cut it into thick cube pieces and set it aside. Slice the green chillies (length wise).

Cook the plantain and yam cubes in a vessel by adding 1 cup of water, green chillies, turmeric powder, pepper powder and salt on a low flame till it tender and dry (be careful not to overcook it and also take care to prevent it from burning). When it is done, add ghee into it.

In the meantime, beat the curd without adding water.

Make a smooth paste of grated coconut and cumin seeds. Add it into the cooked vegetables and simmer for a few minutes.

Pour the curd into it and combine well. Add salt to taste. Simmer for another minute by stirring well all the time. (Remember to keep the flame at the minimum or lowest possible. Take care not to overheat it after adding the curd). Taste for salt and remove from the flame.

Heat 1 table spoon coconut oil in a cooking pan, put mustard and fenugreek seeds. When it splutters, to this add broken dry red chillies & curry leaves and saute it.

Remove from the flame and wait for 2 minutes to bring down the temperature. Add this sauteed mix to the prepared kalan and combine it.

Serve it as a side dish for rice.
NOTES
Follow the steps closely and take care not to overheat the dish as the curds will separate and leave you with an inedible dish.
Copyright © 2013 - 2023 Shaan Geo. All Rights Reserved.
According to me cooking is an equal-opportunity talent and I find that anybody can cook. It is not limited by the age, profession, caste, colour or creed of a person. What is needed is the love for cooking. For me the passion for cooking does not stop in the kitchen, when I travel, I continue to be inspired by eating in some of the best restaurants around the world.
12 comments on "
Kalan

"