Lemon Rice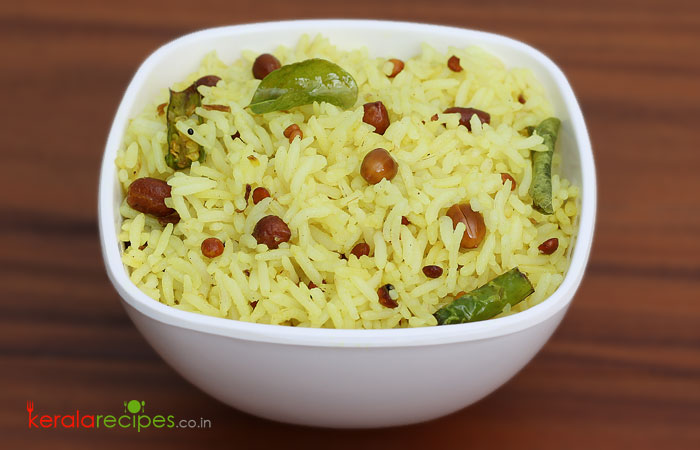 Lemon Rice
Lemon rice is easily one of the simplest yet most popular recipes in South India. It is a dish that is sometimes offered at several South Indian temples. Being a delicious dish, you can easily make it even in a hurry. What's more, lemon rice can be made with leftover rice as well. For a simple but tasty meal, it is ideal to serve this variety dish with raita, pappad or chutney. Lemon rice is also a favorite lunch box option among kids. The tanginess of the lemon imparts a special aroma to this very simple delicacy. The recipe is very easy; it is done by mixing rice with spiced peanut and lemon mixture. The peanuts add a nutty flavor to the tangy and aromatic recipe. The tastiest and easiest lemon rice recipe is right here for you to read so as to find out the simple method to prepare this pleasant dish.
INGREDIENTS
Basmati Rice – 2 Cups

Lemon Juice

നാരങ്ങനീര് – 3 Table spoons OR to taste

Dry Red Chillies

വറ്റല്‍മുളക് – 2 Nos

Mustard Seeds

കടുക് – 1 Tea spoon

Split Bengal Gram / Chana dal

കടലപ്പരിപ്പ് – ¾ Table spoon

Split Black Lentils / Urad dal

ഉഴുന്ന് – ½ Table spoon

Peanuts

നിലക്കടല – 2 Table spoons

Green Chilli

പച്ചമുളക് – 2 Nos

Ginger

ഇഞ്ചി – 1 Inch piece

Curry Leaves

കറിവേപ്പില – 1 Sprig

Turmeric Powder

മഞ്ഞള്‍പൊടി – ½ Tea spoon

Asafoetida Powder

കായം പൊടി – 1 Pinch (optional)

Cooking oil

എണ്ണ – 2½ Table spoons

Salt

ഉപ്പ് – to taste
INSTRUCTIONS
Wash the rice. Cook rice in a vessel by adding enough water (8 cups) and 1 tea spoon of salt. When it is done, drain the excess water and keep aside (let it cool). Ensure that the grains are separate and not mushy so as to get aromatic and delicious lemon rice.

Fine chop the ginger. Slit green chillies lengthwise.

Heat 2½ table spoons of cooking oil in a pan. When the oil is hot, reduce the heat to low and add broken dry red chillies and mustard seeds. When the mustard seeds splutter, add split bengal gram (chana dal) and peanuts. Stir it for 1 minute and add split black lentils (urad dal). Keep stirring one more minute.

Now add green chillies, curry leaves and finely chopped ginger. Sauté until it is done. (about 2 minutes)

Add ½ tea spoon of turmeric powder and 1 pinch of asafoetida powder. Stir well for few seconds.

Add cooked rice, then lemon juice and salt to taste. Mix well and turn off the heat. Taste for salt. Transfer the lemon rice to the serving dish.
NOTES
1) It can be served with pappad, pickle, chutney, raitha, plain curd etc.
2) The amount of lemon juice to be added depends on how tangy the lemon is as well as how tangy you would like the lemon rice to be.
Copyright © 2013 - 2023 Shaan Geo. All Rights Reserved.
According to me cooking is an equal-opportunity talent and I find that anybody can cook. It is not limited by the age, profession, caste, colour or creed of a person. What is needed is the love for cooking. For me the passion for cooking does not stop in the kitchen, when I travel, I continue to be inspired by eating in some of the best restaurants around the world.
12 comments on "
Lemon Rice

"