Mayonnaise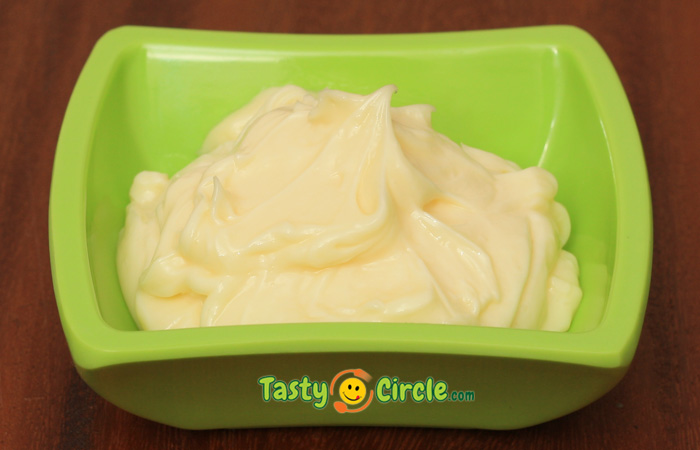 Homemade Mayonnaise
Mayonnaise, often called Mayo, is a thick and creamy dressing that is probably used as a condiment. Besides, it is referred to as the "mother" recipe for many other sauces out there. It is believed that this sauce had its origin in Spain and from there it was taken to France. In fact, the word "Mayonnaise" originated from the French word 'moyeu' meaning "egg yolk". It is important to understand that Mayonnaise is an emulsion of oil and egg yolks - a mixture of two different liquids that generally cannot be combined. Emulsifying is normally done by gradually adding one ingredient to the other while mixing it rapidly (at the same time) which consequently disperses & suspends tiny droplets of one ingredient (probably liquid) through another. In fact, a Mayonnaise recipe that is homemade is simple as well as it has a better flavor compared to its store-bought version. Also, when you have a look at its ingredients and read the recipe, you will see that this recipe is extremely easy to make and you would wonder how such simple ingredients contribute to such great taste. Mayonnaise may vary in color, it is often cream, white or pale yellow.
INGREDIENTS
Egg – 2 Nos

Flavorless Vegetable Oil

Eg: Sunflower Oil – ½ Cup (120 ml)

White Vinegar OR Lemon Juice– 1 Tea Spoon

Mustard Powder OR Garlic Paste – ¼ Tea Spoon

Optional

Pepper Powder – ¼ Tea Spoon

Optional

Salt – To Taste
INSTRUCTIONS
Make sure all the ingredients are in room temperature and you use only fresh eggs. Also ensure you use containers and a food processor jar that are completely dry.

Separate the egg yolks from the egg whites. Whites aren't required for this recipe, so you can use them for any other dish or freeze them for later use.

Using a food processor or an electric hand mixer, mix the egg yolks together with pepper powder (optional) and salt.

As the mixer runs on medium-high speed, very slowly add one table spoon of oil to the egg yolk first, blend it for 30 seconds until the oil blends well with the egg. Repeat the same process 4 times. (until you add 4 table spoons of oil)

Now add the remaining oil in a very thin steady stream process until oil and egg yolk mixes completely and thickens well. (Note that if the oil is added too quickly, the mayonnaise would separate or curdle. Take 6 to 8 minutes for this process)

Now add vinegar OR lemon juice and mustard powder OR garlic paste (optional) and give a quick whisk just for proper mixing.

The mayonnaise is ready. You can transfer it to an airtight dry container and then refrigerate for up to 5-7 days.
NOTES
1) For the right consistency and creamy taste of the mayonnaise, make sure you start the process with a VERY DRY Blender and Containers. Moreover, you should mix the oil very very slowly.
2) Raw egg is generally not recommended for the elderly, infants, people with a weakened immune system and pregnant women. In order to avoid risks, instead use pasteurized egg yolk to prepare the mayonnaise.
Copyright © 2013 - 2023 Shaan Geo. All Rights Reserved.
According to me cooking is an equal-opportunity talent and I find that anybody can cook. It is not limited by the age, profession, caste, colour or creed of a person. What is needed is the love for cooking. For me the passion for cooking does not stop in the kitchen, when I travel, I continue to be inspired by eating in some of the best restaurants around the world.
8 comments on "
Mayonnaise

"