Pineapple Pachadi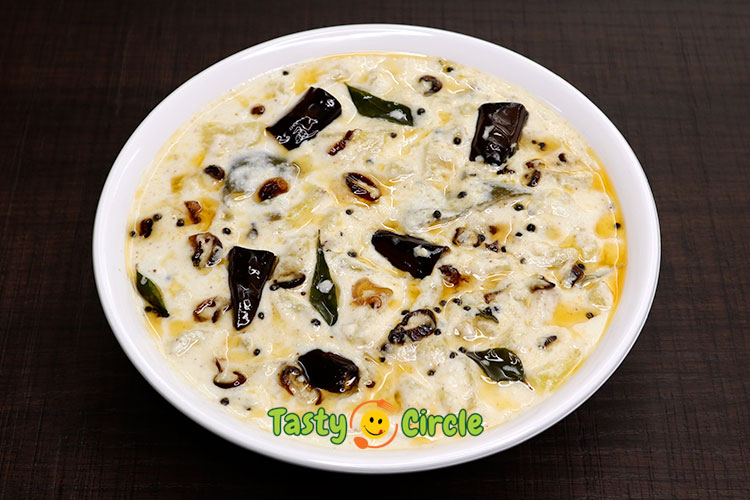 Watch Video (മലയാളം)
Pachadi
Pachadi is a traditional Kerala dish usually served as a side dish for meals. It is generally made using a vegetable or a fruit. However, usually fruits are used to make it; for instance, pineapple pachadi is a good choice. It is a simple dish and can be done in a short span of time. The recipe forms an integral part of Onam sadhya. Much similar to raita, this wonderful dish falls midway between a sauce and a relish. You may get confused about the difference between pachadi and kichadi. The difference is, pachadi is sweet and the kichadi is not sweet. There are many variations of this dish; it is made from cucumber, beetroot, pineapple and the like. Pineapple pachadi, also known as Mathura curry (sweet curry), is quite popular and is generally served in wedding feasts. This dish is much sweeter or rather it is an awesome combo of flavors including spicy, sweet and tangy. If you are a lover of sweet and sour taste, you must definitely try this recipe.
INGREDIENTS
Pineapple (Chopped)

പൈനാപ്പിൾ - 2 Cups

Grated Coconut

തേങ്ങ ചിരണ്ടിയത് - 1 Cup

Green chilli

പച്ചമുളക് - 3 Nos

Ginger

ഇഞ്ചി - 1 inch piece

Water

വെള്ളം - ¾ Cup

Curd

തൈര് - 1 Cup

Coconut Oil

വെളിച്ചെണ്ണ - 2½ Tablespoon

Mustard seeds

കടുക് - 1 Teaspoon

Dry red chillies

വറ്റൽമുളക് - 4 Nos

Shallot

ചെറിയ ഉള്ളി - 4 Nos

Curry leaves

കറിവേപ്പില - 2 Sprigs

Salt

ഉപ്പ് – 2 Teaspoons
INSTRUCTIONS
Peel off pineapple skin and cut it into small pieces (2 cups).

Slice green chilli (length wise) and shallots.

Chop the ginger into small pieces.

Grind the grated coconut well into a paste.

Cook the pineapple pieces along with green chilli, ginger, curry leaves (1 sprig), salt (1 Teaspoon), and water in a covered cooking vessel.

When it is done, to this add the ground paste, mix it well and wait till it boils.

Remove from the flame, add curd to it and mix it well. Taste for salt.

Heat 2½ tablespoons coconut oil in a cooking pan and put mustard seeds. When it splutters, to this add broken dried red chillies, shallot & curry leaves and saute it.

Add this sauteed mix to the prepared pachadi and mix it.

Serve it as a side dish for rice.
NOTES
If you want the curry to be sweeter, add little sugar also.
Copyright © 2013 - 2023 Shaan Geo. All Rights Reserved.
According to me cooking is an equal-opportunity talent and I find that anybody can cook. It is not limited by the age, profession, caste, colour or creed of a person. What is needed is the love for cooking. For me the passion for cooking does not stop in the kitchen, when I travel, I continue to be inspired by eating in some of the best restaurants around the world.
22 comments on "
Pineapple Pachadi

"