Sukhiyan (Sugiyan)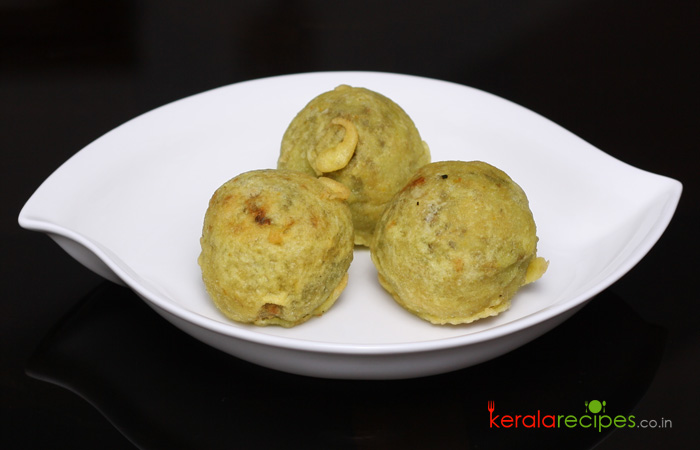 Sukhiyan (Sugiyan)
Sukhiyan is a traditional snack which is part and parcel of Kerala cuisine. Traditionally it is eaten as an evening snack by the families when the children return from school or college. As grownups, many Keralites has nostalgic memories of enjoying a quality time with the family, eating hot Sukhiyan as evening snack. The snack is a great favorite when families gather to celebrate festivals. Made of a mixture of flour, precooked beans, jaggery, grated coconut, sugar and cardamom, deep fried in oil, Sugiyan has a unique taste. It is a great snack to serve with coffee or tea to the visitors or family members. With a little bit of practice one can prepare Sukhiyan easily and within the shortest possible time.
INGREDIENTS
Mung bean / Green gram

ചെറുപയര്‍ - 1½ Cup

Crushed Jaggery

ശര്‍ക്കര പൊടിച്ചത് - 1 Cup

Grated coconut

തേങ്ങ ചിരണ്ടിയത് – ¾ Cup

All purpose flour

മൈദ – 1¼ Cup

Cardamom powder

ഏലക്ക പൊടിച്ചത് - ½ Tea spoon

Sugar

പഞ്ചസാര – 1 Table spoon

Turmeric powder

മഞ്ഞള്‍പൊടി – 1 Pinch (optional)

Water

വെള്ളം – 1 + 1¼ Cups

Salt

ഉപ്പ് – to taste

Cooking oil

എണ്ണ – to deep fry
INSTRUCTIONS
Wash and soak mung bean in water for 4 hours and drain it.

Pressure cook the soaked mung bean by adding 1¼ cup of water and a little salt. When you hear the first whistle, reduce the heat to low and wait for the second whistle. Turn of the heat and wait till the pressure settles.

Open the pressure cooker when the pressure settles. If there is still extra water in the pot, put it on fire again and heat till the water evaporates.

Crush the jaggery and make syrup by boiling it with ½ cup water. Remove impurities by straining the syrup.

Heat the syrup again, put in grated coconut and cardamom powder. Cook for two minutes. Keep on stirring all the time.

Next, add cooked mung beans, mix well to form a thick mixture and turn off the heat.

Make ten balls from the mixture, using your hands. Keep them aside. (You can grease your hands with ghee/cooking oil if you find mixture too sticky.)

Now prepare the batter for dipping Sukhiyan. Add one cup of water, sugar, turmeric (this is optional if you want to add yellow color to sugiyan), and a pinch of salt to all purpose flour and make a thick batter.

Pour enough oil into a deep bottom pan and heat it. When the oil is heated sufficiently, reduce the flame to medium. Dip each ball into the batter and deep fry it, making sure that the Sukhiyan is completely cooked on all sides.

Place the cooked Sugiyan on a paper towel to soak excess oil, transfer to a dish and serve.
Copyright © 2013 - 2023 Shaan Geo. All Rights Reserved.
According to me cooking is an equal-opportunity talent and I find that anybody can cook. It is not limited by the age, profession, caste, colour or creed of a person. What is needed is the love for cooking. For me the passion for cooking does not stop in the kitchen, when I travel, I continue to be inspired by eating in some of the best restaurants around the world.
10 comments on "
Sukhiyan (Sugiyan)

"