Egg Biryani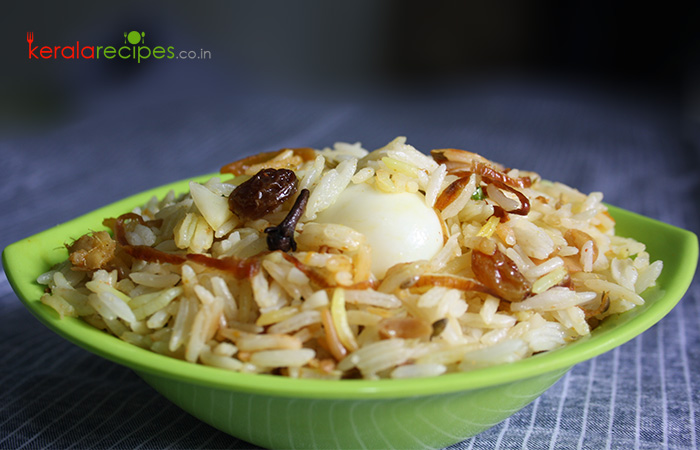 Egg Biryani
Egg biryani is one of the less time consuming variations of biryani. Though rich and flavourful, many casual cooks shy away from it due to the time that needs to go into its careful preparation. The Egg biryani presented here eases the pain and preparation time without compromising on the richness and satisfaction.
INGREDIENTS
Biryani rice

ബിരിയാണി അരി - 4 Cups

Egg

മുട്ട - 4 Nos

Ghee

നെയ്യ് - 3 Table spoon

Onion

സവോള - 5 Nos

Carrot

small - 1 No

Ginger

ഇഞ്ചി - 1 inch piece

Garlic

വെളുത്തുള്ളി - 8 Pods

Tomato

തക്കാളി - 2 Nos

Capsicum - ½ of one

Curry leaves

കറിവേപ്പില - 1 Sprig

Milk

പാല്‍ - ¾ Cup

Cashew nut

കശുവണ്ടി - 15 Nos

Raisins

ഉണക്ക മുന്തിരി - 15 Nos

Kashmiri Chilli powder

കാശ്മീരി മുളകുപൊടി - 2 Table spoon

Coriander powder

മല്ലിപ്പൊടി - 1 Table spoon

Turmeric powder

മഞ്ഞള്‍പൊടി - 1 pinch

Garam Masala

ഗരം മസാല - 1 Tea spoon

Cinnamon

കറുവാപ്പട്ട - 3 Piece

Clove

ഗ്രാമ്പു - 10 Nos

Cardamom

ഏലക്കാ - 4 Nos

Pepper

കുരുമുളക് - 10 Nos

Coriander leaves

മല്ലി ഇല - 3 Sprigs

Mint leaves

പുതിന ഇല - 5 Leaves

Coconut Oil

വെളിച്ചെണ്ണ - 3 Table Spoon

Hot water

ചൂടുവെള്ളം - 7 Cups

Salt

ഉപ്പ് – to taste
INSTRUCTIONS
Wash rice, soak in water for 30 minutes and drain it.

Boil eggs in a vessel by adding water for 15 minutes. Peel away the shells and slice it into 2 halves.

Chop ginger, garlic, tomatoes, carrot, capsicum, coriander leaves and mint leaves. Slice onions finely.

Heat 1 table spoon of ghee in another cooking vessel, put cinnamon, cloves, cardamom & pepper and stir it. Put rice and stir for 1 minute. Pour 7 cups of hot water and salt as needed, cook it covered on a low flame. Remove from the flame when it is 90% cooked so that the rice does not stick together.

Heat 1½ table spoon ghee in a cooking vessel, fry cashew nut, raisins and 2 finely sliced onion separately till golden brown and keep aside (while frying onions add 1 tea spoon sugar so that the fried onions remain crisp throughout).

Heat 3 table spoon coconut oil in a vessel, put chopped ginger and garlic and stir it for 1 minute. Add remaining 3 finely sliced onions and carrot. Saute until the onions turn brown. Reduce the flame, add chilli, coriander, turmeric and garam masala powders into the vessel and stir it for 2 minutes. Proceed to add tomatoes, capsicum, curry leaves and salt to it and saute till done. Pour milk and combine well. Add sliced eggs into it when it starts boiling. Taste for salt and remove from the flame.

Spread evenly 1 table spoon of ghee in a vessel and layer it with rice and the egg masala. Arrange 5 layers with rice and egg masala. The bottom layer and the top layer should be rice. Garnish each layer with fried onion, cashews, raisins, finely chopped coriander and mint leaves. Pour ½ table spoon Ghee on the top. Cover the vessel.

Heat a heavy tawa, put the biryani vessel on the tawa and heat it in a very low flame for 15 minutes. Turn off the flame and let it unopened for another 10 minutes.

Serve the egg biryani with salad, pappad and lime pickle.
NOTES
1) Instead of cooking on a heavy tawa, you can also cook it in a pre-heated oven.
2) Salt can be added while boiling the eggs to prevent it from cracking.
3) Quantity of eggs can be decided as per the requirements.
Copyright © 2013 - 2023 Shaan Geo. All Rights Reserved.
According to me cooking is an equal-opportunity talent and I find that anybody can cook. It is not limited by the age, profession, caste, colour or creed of a person. What is needed is the love for cooking. For me the passion for cooking does not stop in the kitchen, when I travel, I continue to be inspired by eating in some of the best restaurants around the world.
28 comments on "
Egg Biryani

"