Ghee Rice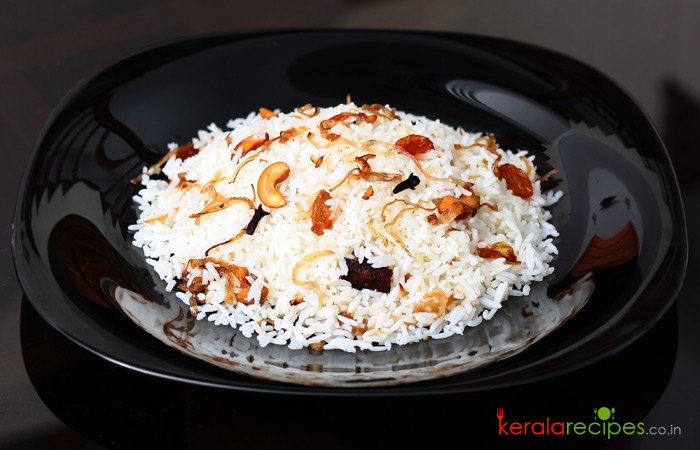 Ghee Rice
Ghee rice is a great dish to accompany any type of curry on any occasion, festive or ordinary. The aroma of fragrant rice and clarified butter along with spices announces that it is time to stop whatever one is doing and sit down for a very satisfying meal. The ghee rice is enriched by raisins, cashew nuts and many types of spices including cardamom, cinnamon, and cloves. The dish is topped by sliced onions caramelized to perfection and scattered over the mound rice. The best part of making dish is that it is not very time consuming, and teamed with chicken, egg, or fish curry makes a very satisfying. The family members, as well as the visitors, are bound to enjoy eating ghee rice with relish along with curries.
INGREDIENTS
Basmati rice

ബസ്മതി അരി - 4 Cups

Ghee

നെയ്യ് – 1/3 Cup

Onion

സവോള – 1½ No

Cashew nut

കശുവണ്ടി - 20 Nos

Raisins

ഉണക്ക മുന്തിരി - 20 Nos

Cinnamon

കറുവാപ്പട്ട – 4 Piece (1 Inch each)

Clove

ഗ്രാമ്പു - 10 Nos

Cardamom

ഏലക്കാ - 5 Nos

Hot water

ചൂടുവെള്ളം - 7 Cups

Salt

ഉപ്പ് - to taste
INSTRUCTIONS
Wash rice, soak in water for 15 minutes and drain it well.

Slice the onion finely.

Heat 3 table spoons of ghee in a cooking vessel, fry cashew nuts, raisins and finely sliced onion separately till golden brown and keep aside (while frying onions, when it is almost done add 1 tea spoon of sugar so that the fried onions remain crisp throughout).

Heat ¼ cup of ghee in the vessel, put cinnamon, cloves & cardamom and stir it for few seconds. Proceed to add rice and stir for 5 minutes.

Add 7 cups of hot water and 1 tea spoon of salt. Cook it covered till done. (Give a stir in between.) Turn off the heat when the water is absorbed by the rice. Keep it closed for another 10 more minutes.

Open the lid and garnish with fried onion, cashews and raisins.

Serve ghee rice hot with gravy type curries, salad, pappad and pickle.
Copyright © 2013 - 2023 Shaan Geo. All Rights Reserved.
According to me cooking is an equal-opportunity talent and I find that anybody can cook. It is not limited by the age, profession, caste, colour or creed of a person. What is needed is the love for cooking. For me the passion for cooking does not stop in the kitchen, when I travel, I continue to be inspired by eating in some of the best restaurants around the world.
10 comments on "
Ghee Rice

"