Egg Roast (Mutta Roast)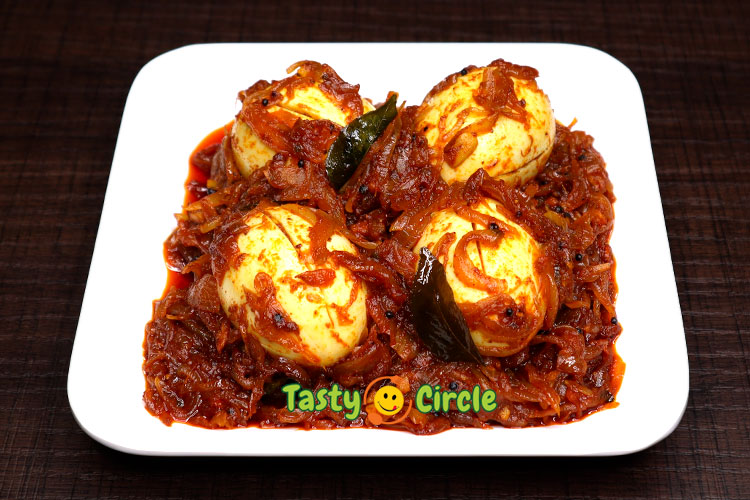 Watch Video (മലയാളം)
Egg Roast (Mutta Roast)
Egg Roast, popularly known as Mutta Roast is a staple Kerala side dish. It is such an easy recipe that sautéing Onions along with the traditional spices is the only major step. It is a perfect combo to the all time favourite Kerala main course dishes like Idiyappam, Pathiri, Appam and Chappathi. The rich flavour of Egg Roast makes even a bland food appealing.
INGREDIENTS
Egg

മുട്ട - 4 Nos

Salt

ഉപ്പ് - 1½ Teaspoon

Water

വെള്ളം - 750ml (Approximately)

Coconut Oil

വെളിച്ചെണ്ണ - 4 Tablespoons (60ml)

Mustard Seeds

കടുക് - ½ Teaspoon

Chopped Ginger

ഇഞ്ചി - 1 Tablespoon (10gm)

Chopped Garlic

വെളുത്തുള്ളി - 1½ Tablespoon (15gm)

Onion

സവോള - 4 Nos (medium size) / 500gm

Salt

ഉപ്പ് - 1 Teaspoon

Curry Leaves

കറിവേപ്പില - 1 Sprig

Turmeric Powder

മഞ്ഞള്‍പൊടി - ¼ Teaspoon

Chilli Powder

മുളകുപൊടി - ½ Tablespoon

Kashmiri Chilli Powder

കാശ്മീരി മുളകുപൊടി - 1½ Tablespoon

Hot Water

ചൂടുവെള്ളം - ¼ Cup (60ml)

Lime Juice

നാരങ്ങാനീര് - ½ Teaspoon

Crushed Black Pepper

കുരുമുളക് ചതച്ചത് - ½ Teaspoon
INSTRUCTIONS
Take 4 Eggs and boil them.  You may boil the Eggs according to your preference.  Keep Eggs in a pressure cooker and add some Salt to it.  Add 1½ teaspoon of Salt so as to sink into the Eggs.  Pour enough Water to cover the Eggs.  Pressure cook it till the first whistle.  Turn off the flame after first whistle and wait till the pressure releases from the Cooker.  When the pressure releases, shift the Eggs to cold water.  When the Eggs cool down, peel them.  Add 4 slits on the white portion of the Eggs to allow masalas to seep in.

Heat a pan or kadai and add 4 tablespoon of Oil(preferably Coconut OIl).  When the Oil is hot, add ½ teaspoon of Mustard seeds and let it splutter.

Turn down the flame to medium, and add 1 tablespoon of chopped Ginger and 1½ tablespoon of chopped Garlic.  Sauté them for 30 seconds. DO NOT to add Ginger-Garlic paste.

Add 4 medium sized Onions (sliced). Add 1 teaspoon of Salt.  Now sauté well in a medium flame till the stage right before turning golden brown.  When half done, add 1 sprig of Curry leaves and mix again.

Cook in medium flame for about 15-20 minutes.  Add ¼ teaspoon of Turmeric Powder, ½ teaspoon of Chilli Powder and 1½ tablespoon of Kashmiri Chilli Powder. Mix it till the raw flavour of Chilli Powder settles.

Add ¼ cup of hot Water.(DO NOT use cold water.)  To balance the flavours of the dish, add ½ teaspoon of Lime Juice and ½ teaspoon of crushed Pepper.  Mix for 1 minute till the water reduces.

Now add the boiled and slitted Eggs. Mix and combine well.  Push the eggs to the center and cover it with the masala.

Turn off the flame and keep the egg roast (Mutta roast) for 15 minutes.
NOTES
Serve hot after the resting time, as it balances the flavour.
Copyright © 2013 - 2023 Shaan Geo. All Rights Reserved.
According to me cooking is an equal-opportunity talent and I find that anybody can cook. It is not limited by the age, profession, caste, colour or creed of a person. What is needed is the love for cooking. For me the passion for cooking does not stop in the kitchen, when I travel, I continue to be inspired by eating in some of the best restaurants around the world.
2 comments on "
Egg Roast (Mutta Roast)

"