Kaipola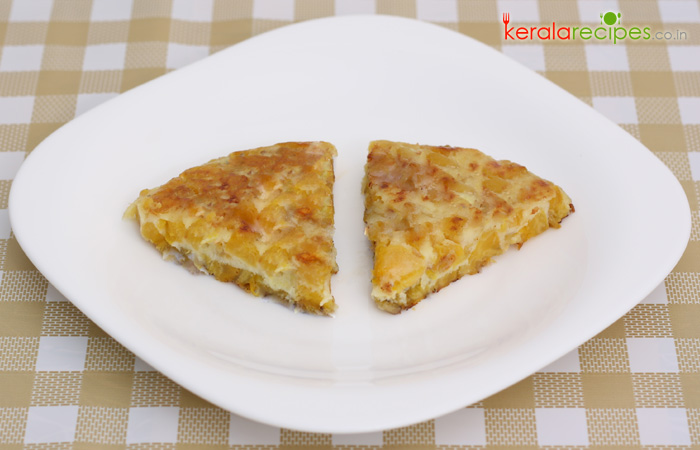 Kaipola
Kaipola, also known as banana cake or steamed plantain cake, is one of the most authentic Malabar dishes. The dish is a sweet combination of egg and banana. Kaipola, the quick and easy recipe, is a specialty of Kerala, most specifically among the Muslim community in the state. It is known to be made during the Ramadan month and served during the Ifthar parties. The best part is that the recipe is not only very tasty but very easy to prepare. The ingredients for making Kaipola are very few and can be made with ingredients that are available readily at home. The dish is also often served for breakfast or relished as an evening snack. Ripe bananas when shallow fried taste exceptionally delicious and imparts the necessary sweetness to the dish. Kaipola is highly nutritious, rich in flavor and extremely yummy. Try this quick and easy recipe whenever you want to treat your taste buds with something extraordinary!
INGREDIENTS
Ripe Plantain – 3 Nos

Egg – 4 No

Sugar – 4 Table spoons

Cardamom powder – ½ Tea spoon

Cashew nuts – 15 Nos

Raisins – 15 Nos

Ghee – 2 Table spoon
INSTRUCTIONS
Peel the plantains and cut it into small pieces.

Heat 2 table spoons of ghee in a non-stick sauce pan.

Fry the cashew nuts and raisins separately until they turn golden in colour. Keep them aside.

To the same pan (in the remaining ghee), add plantain pieces and sauté them well.

Turn off the flame and allow the pan to cool down.

Put the eggs, sugar and cardamom powder in a bowl and whisk them well.

Pour this egg mixture into the pan that contains the sautéed plantain. Combine it and top the mixture with fried cashew nuts and raisins.

Cook this mixture covered in a very low flame for about 20 minutes.

Remove from the flame and cut it into pie shaped pieces.

Kaipola is ready to serve.
NOTES
Instead of cooking Kaipola in a non-stick pan, you can also bake it in a pre-heated oven (1800C – 25 minutes).
Copyright © 2013 - 2023 Shaan Geo. All Rights Reserved.
According to me cooking is an equal-opportunity talent and I find that anybody can cook. It is not limited by the age, profession, caste, colour or creed of a person. What is needed is the love for cooking. For me the passion for cooking does not stop in the kitchen, when I travel, I continue to be inspired by eating in some of the best restaurants around the world.
21 comments on "
Kaipola

"