Egg Potato Casserole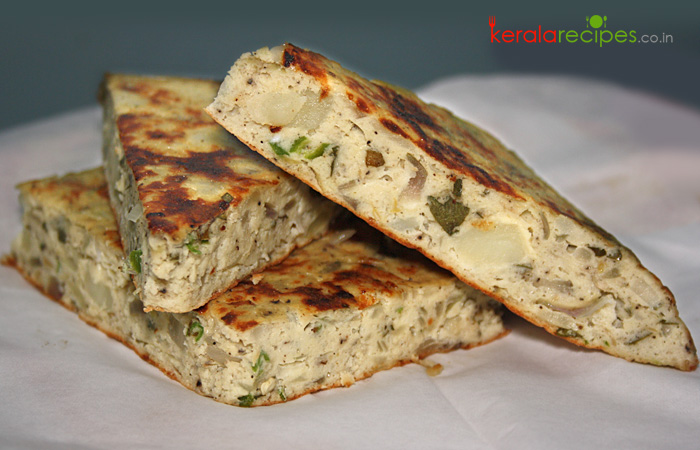 Egg Potato Casserole
Casserole is a dish in which food is both prepared and served. The name casserole is also used for a food item which is cooked and served in the same dish. Here you can try a fusion cuisine – egg potato casserole with Indian flavors. It can both be served as a breakfast or as a snack.
INGREDIENTS
Egg

മുട്ട - 3 Nos

Potato

ഉരുളക്കിഴങ്ങ് - 3 Nos

Onion

സവോള - 1 Nos

Ginger

ഇഞ്ചി - 1½ inch piece

Curry leaves

കറിവേപ്പില - 2 Sprigs

Green chilli

പച്ചമുളക് - 3 Nos

Pepper powder

കുരുമുളകുപൊടി - ½ Tea Spoon

Butter or Ghee or Cooking oil – 1 Table spoon

Salt

ഉപ്പ് – to taste
INSTRUCTIONS
Cook potatoes in a cooking vessel by adding water. Drain it, mash it and keep aside.

Chop onion, ginger, curry leaves and green chilli finely.

Break eggs and beat it lightly.

To this add mashed potatoes, chopped ingredients, pepper powder and salt. Combine it well.

Heat a non stick pan and spread ½ table spoon butter (ghee/cooking oil) on it.

Pour the mix (step 4) into the pan with minimum of 1 inch thickness. Cook it covered on a low flame by turning both sides till done. (Remember to spread ½ table spoon butter / ghee / cooking oil on the top before going to turn it first time)

Server it hot.
NOTES
1) Instead of cooking this dish in a non stick pan, you can also bake it in a pre-heated oven.
2) Adding shallots (15 Nos) instead of onion (1 No) will taste better.
3) If required garnish it with cheese.
Copyright © 2013 - 2023 Shaan Geo. All Rights Reserved.
According to me cooking is an equal-opportunity talent and I find that anybody can cook. It is not limited by the age, profession, caste, colour or creed of a person. What is needed is the love for cooking. For me the passion for cooking does not stop in the kitchen, when I travel, I continue to be inspired by eating in some of the best restaurants around the world.
39 comments on "
Egg Potato Casserole

"