Egg Fried Rice (Restaurant Style)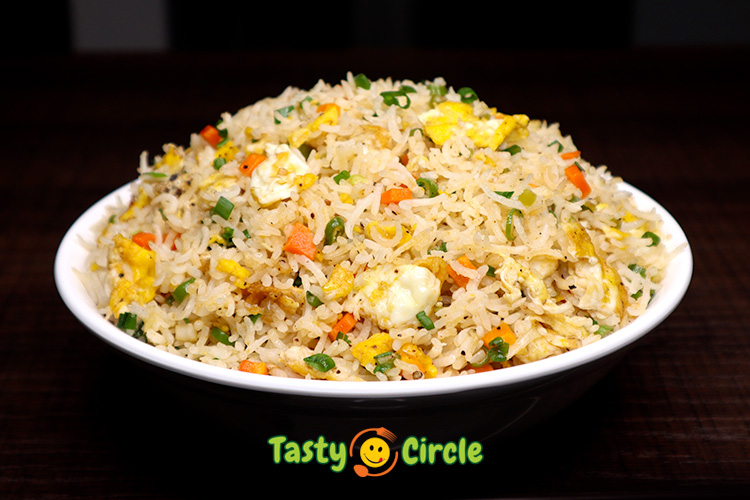 Watch Video (മലയാളം)
Restaurant Style Egg Fried Rice
Who is not a fan of Restaurant Style Fried Rice? Hardly any... What makes a perfect restaurant style fried rice is not just the ingredients, but also the minute details that comes in the cooking process. Right from the cooking till the serving, if we try to follow the right steps, we too can prepare this classy dish. Al-dente cooked rice is the first and major factor in the cooking process. Also not to forget the crispness that is to be maintained in the vegetables, that can be achieved only by cooking on a high flame. The key factor while cooking a Chinese dish, is to ALWAYS keep the flame on the highest level. Only then we'll get the desired crispness and texture for the perfect Restaurant style Fried Rice. Hope you all will be able to achieve this perfect dish by following this recipe and by keeping these minute tips in mind throughout.
INGREDIENTS
Basmati Rice

ബസ്മതി റൈസ് - 1 Cup (200gm)

Water

വെള്ളം - 4 Cups (Around 1 Litre)

Salt

ഉപ്പ് - 1½ +1 Teaspoon

Refined Oil

എണ്ണ - 1+1+3 Tablespoon

Egg

മുട്ട - 3 Nos

Crushed Black Pepper

കുരുമുളക് ചതച്ചത് - ¼ + ½ Teaspoon

Finely Chopped Garlic

വെളുത്തുള്ളി ചെറുതായി അരിഞ്ഞത് - 2 Teaspoons

Spring Onion Bulb (white part)

- ¼ Cup (Chopped)

Carrots

ക്യാരറ്റ് - ¼ Cup (Chopped)

Green Beans

ബീൻസ് - ¼ Cup (Chopped)

Capsicum

കാപ്സിക്കം - 2 Tablespoons (Chopped)

Cabbage

ക്യാബജ് - ¼ Cup (Chopped)

Light Soy Sauce

സോയ സോസ് - 2 Teaspoons

Chilli-Garlic Sauce OR Chilli Sauce

ചില്ലി ഗാർലിക് OR ചില്ലി സോസ് - 2 Teaspoons

Sugar

പഞ്ചസാര - ½ Teaspoon

Spring Onion Greens (green part)

- ¼ Cup (Chopped)
INSTRUCTIONS
Take 1 cup of washed and drained, Basmati rice and soak it in 2 cups of water. Let it soak for 30 minutes. After soaking, add it to 4 cups (1 litre) of boiling water and let it cook till 90% done. The flame should be kept high till rolling boil. When it starts to rolling boil, set the flame on medium. Add 1½ teaspoon of Salt and 1 tablespoon of Refined Oil into the water. Since it is soaked for 30 minutes, the cooking will be done as soon as it starts to rolling boil. Drain the water completely using a strainer. After 2 minutes, spread the rice on two plates to cool down and keep it in the refrigerator for minimum 2 hours. The rice prepared in the said way will be separate and won't clump at all.

To prepare eggs, heat 1 tablespoon Refined Oil in a kadai and add 3 eggs to it. Into that, add a pinch of salt, ¼ teaspoon of pepper and scramble them and move it into another pan.

Into the same kadai, add 3 tablespoon of Refined Oil and heat it. Add 2 teaspoon of finely chopped Garlic and sauté it slightly. Add ¼ cup of the bulb of Spring Onion (white portion), ¼ cup of chopped Carrots, ¼ cup of chopped Beans, 2 tablespoon of chopped Capsicum (Optional), ¼ cup of chopped Cabbage and sauté it for 1 minute. Unlike traditional cooking, you don't have to cook it for too long. A light stir fry is enough on high flame.

After sautéing for 1 minute, add the scrambled eggs and mix them together. If you want Chicken Fried Rice, use cooked chicken using salt and pepper, and add it along with scrambled eggs. If you need Mixed Fried Rice, you may use cooked Beef or Prawns along with this.

Turn down the flame and add 2 teaspoon of Light Soy Sauce, 2 teaspoon of Chilli-Garlic OR Chilly Sauce and ½ teaspoon of sugar and mix well. Now add the prepared Basmati Rice to it. Add in ½ teaspoon of crushed Black Pepper OR White Pepper and ¼ cup of chopped Spring Onion Greens. Spring Onion gives an amazing flavour to the Fried Rice, so try not to avoid it. Again turn up the flame to the maximum and mix well. Mixing enhances the taste of the Fried Rice. Take care not to break the rice while mixing.

There are mainly 2 ways to avoid breaking of rice. One, is to toss the rice as they do in restaurants. Other, by mixing and folding using a wooden spatula. Chances of breakage are more while using a steel spoon. Adjust salt according to your preference. Here, we've added salt only while cooking Basmati Rice. We have not added salt after that because in some Soy Sauces there may be salt. You may sprinkle some salt after mixing rice and veggies. Mix and fold till all the rice are of same colour. If you notice a portion of rice in the original colour, it means the mixing is not done properly. Serve it hot.
NOTES
The best way is to boil and prepare rice a day before.
Chinese dishes are always cooked on high flame and done very quickly. Due to that reason, always prepare the ingredients beforehand and keep them aside.
Make sure that the pan is not crowded; Kadai should be always half filled. In a crowded pan, you will not be able to mix properly.
Try not to cover and keep the Fried Rice. Covering increases the moisture content, thus loosing flavour.
Copyright © 2013 - 2023 Shaan Geo. All Rights Reserved.
According to me cooking is an equal-opportunity talent and I find that anybody can cook. It is not limited by the age, profession, caste, colour or creed of a person. What is needed is the love for cooking. For me the passion for cooking does not stop in the kitchen, when I travel, I continue to be inspired by eating in some of the best restaurants around the world.
One comment on "
Egg Fried Rice (Restaurant Style)

"