Aloo Gobi Masala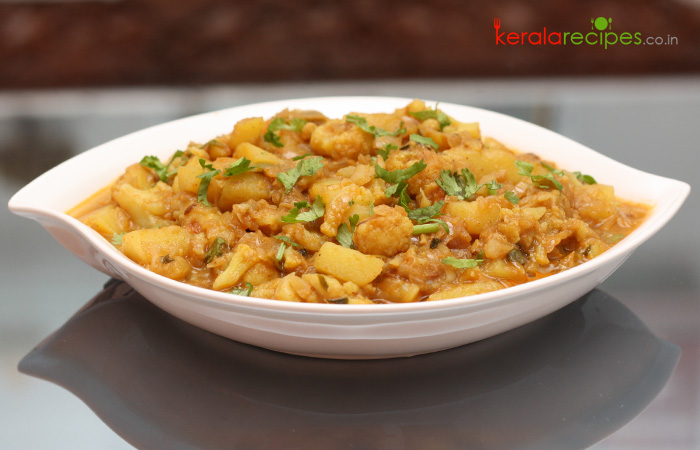 Aloo Gobi Masala (Potato – Cauliflower Curry)
Aloo gobi masala – a very popular vegetarian dish in India, especially in the northern part of India. It is a standard item in most of the Indian restaurant menu. Potato is called 'Aloo' and cauliflower is known as 'Gobi' in Hindi. So, it is a mixed curry of potato and cauliflower. It goes well with almost all prime dishes. Here you go with the Aloo gobi masala recipe.
INGREDIENTS
Potato

ഉരുളക്കിഴങ്ങ് - 3 Nos (medium size)

Cauliflower - 200 gm

2 Cup

Onion

സവോള - 3 Nos

Tomato

തക്കാളി - 1 No

Ginger

ഇഞ്ചി - 1 Inch piece

Garlic

വെളുത്തുള്ളി - 8 Cloves

Green chilli

പച്ചമുളക് - 2 Nos

Coriander powder

മല്ലിപ്പൊടി - 2½ Table spoon

Chilli powder

മുളകുപൊടി - ½ Table spoon

Turmeric powder

മഞ്ഞള്‍പൊടി - 1 Pinch

Garam Masala

ഗരം മസാല - 1 Tea spoon

Cumin seeds

ജീരകം - 1 Tea Spoon

Kasuri Methi / Dried fenugreek leaves

കസൂരിമേത്തി - 2 Tea spoon (optional)

Coriander leaves

മല്ലിയില - 2 sprigs

Butter

വെണ്ണ - 1 Table spoon

Cooking oil

എണ്ണ - 3 Table spoon

Salt

ഉപ്പ് - To taste
INSTRUCTIONS
Wash and clean the cauliflower well. Cut it into bite size florets. Peel the potatoes and cut to 1 inch pieces. Chop onion, ginger, garlic and green chilli finely. Slice the tomatoes.

Heat 3 table spoon of cooking oil in a pan. Put 1 tea spoon of cumin seeds and allow them to sizzle.

Put finely chopped onion, ginger, garlic, green chilli and salt. Saute it in a medium heat until it turns golden brown.

Bring down the heat to low. Add coriander, chilli, turmeric and garam masala powders to it. Stir continuously for 1 minute.

Proceed to add 4 cups of water followed by cauliflower, potatoes, tomatoes and salt. Combine well and cook it covered in a medium heat till done. Give a stir in between. (You can also microwave it)

When it is done, put kasuri methi (optional).

Remove from the heat and add 1 table spoon of butter. Taste for salt.

Aloo gobi masala is ready. Transfer to the serving dish and garnish with chopped coriander leaves.
NOTES
1) You can also prepare Aloo Gobi Masala by frying cauliflower and potato, then adding it to the masala.
2) Adjust the level of spices to suit your taste.
Copyright © 2013 - 2023 Shaan Geo. All Rights Reserved.
According to me cooking is an equal-opportunity talent and I find that anybody can cook. It is not limited by the age, profession, caste, colour or creed of a person. What is needed is the love for cooking. For me the passion for cooking does not stop in the kitchen, when I travel, I continue to be inspired by eating in some of the best restaurants around the world.
18 comments on "
Aloo Gobi Masala

"