Tomato Ketchup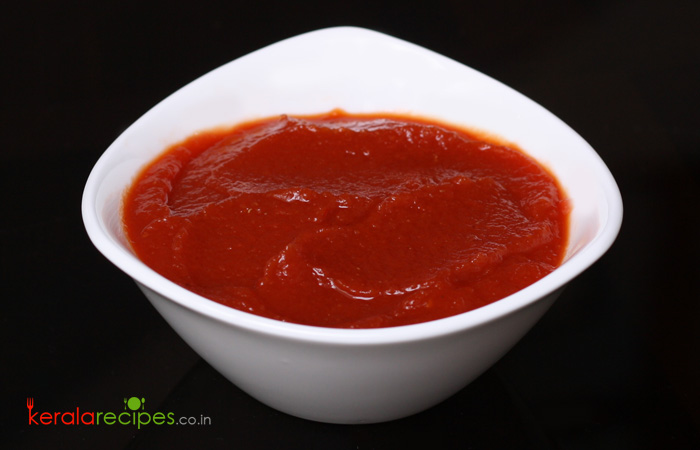 Tomato Ketchup (Tomato Sauce)
Most of you are familiar with the ready-made tomato ketchup available in tetra packs and bottles. Not many of you would have thought of making your own ketchup at home. But, homemade tomato sauce is something you should definitely try once. The best time to make this recipe is when the tomatoes are quite cheap in the market. This tomato ketchup recipe is really tasty and you could have it with anything or simply relish it alone. It is easy to prepare and you can serve it to everyone, especially kids. As there are no strong preservatives added in it, you need not worry about consuming more of this yummy sauce. It certainly is a healthier option. Not only children, even adults will just love the 'sweet and sour' taste of this mouth-watering tomato ketchup recipe. What's more, very few ingredients are required to make this distinct sauce. What are you waiting for? Go ahead, make finger licking tomato ketchup and have it with sandwiches, samosas, or just like that.
INGREDIENTS
Ripe tomato

പഴുത്ത തക്കാളി – 1 kg

Sugar

പഞ്ചസാര – 5 Table spoons

Cardamom

ഏലക്കാ – 6 Nos

Clove

ഗ്രാമ്പു – 8 Nos

Cinnamon

കറുവാപ്പട്ട – 2 Inch piece

Chilli powder

മുളകുപൊടി – 1 Tea spoon

Ginger

ഇഞ്ചി – 1½ Inch piece

Garlic

വെളുത്തുള്ളി – 6 Cloves

Vinegar

വിനാഗിരി – 2 Table spoons

Salt

ഉപ്പ് – 2 Tea spoons
INSTRUCTIONS
Chop tomatoes, ginger and garlic into small pieces.

Saute the chopped ingredients in a non-stick pan along with chilli powder, cardamom, clove and cinnamon. Cover the pan and cook for about 25 minutes in medium heat. Stir occasionally.

Remove from heat and mash it well. Now, pour the mixture through a strainer and filter it by pressing with the back of a ladle or a spatula.

Transfer the strained tomato sauce to the non-stick pan and add sugar, salt and vinegar. Cook it for another 20-25 minutes in medium heat by stirring continuously until it becomes sufficiently thick.

Store the tomato ketchup in an air tight and dry container. Use only glass or plastic jars. Keep it refrigerated to last up to 3 to 4 weeks.
NOTES
1) Adjust the level of sugar and salt to suite your tastes.
2) Do you want to preserve this tomato ketchup for a longer time? Just add half a teaspoon of sodium benzoate dissolved in a quarter cup of boiling water. Add this mixture to the ketchup (step 4). However, this is not recommended because it is not a healthy choice to add preservatives in tomato sauce.
Copyright © 2013 - 2023 Shaan Geo. All Rights Reserved.
According to me cooking is an equal-opportunity talent and I find that anybody can cook. It is not limited by the age, profession, caste, colour or creed of a person. What is needed is the love for cooking. For me the passion for cooking does not stop in the kitchen, when I travel, I continue to be inspired by eating in some of the best restaurants around the world.
8 comments on "
Tomato Ketchup

"