Kerala Sambar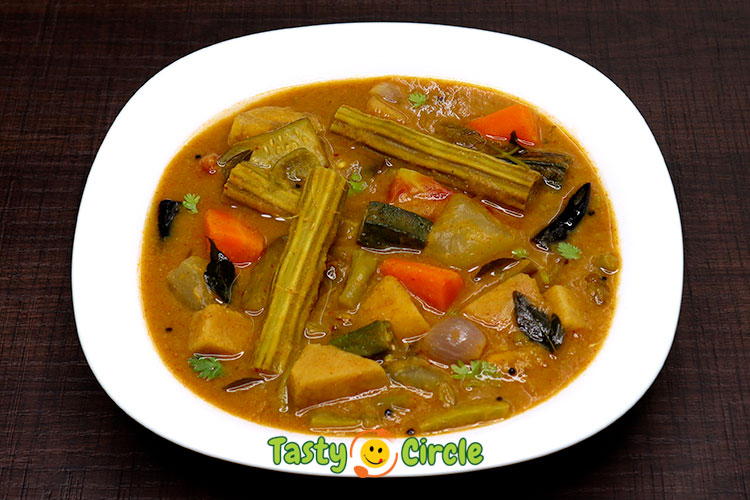 Watch Video (മലയാളം)
Kerala Sambar Recipe
Kerala sambar is a dal based mixed vegetable curry. There are many varieties of sambar recipes in India. People from different region prepare this curry in different style. Any vegetable can be included to make this dish. Usually people prepare this dish to finish off the leftover vegetables 🙂 Here you can try an easy to prepare Kerala style sambar.
INGREDIENTS
Dal

Toor Dal / തുവരപ്പരിപ്പ് - ½ Cup

Drumstick

മുരിങ്ങക്കായ്‌ - 1 No

Tomato

തക്കാളി - 1 No

Potato

ഉരുളക്കിഴങ്ങ് - 1 No

Carrot

1 No

Brinjal

വഴുതനങ്ങ - 1 No

Okra / Lady's finger

വെണ്ടയ്ക്ക - 2 Nos

Ivy gourd

കോവയ്ക്ക - 4 Nos

Cucumber

വെള്ളരിയ്ക്ക - 100 gm

Raw Plantain

Raw banana / നേന്ത്രക്കായ്‌ - ½ of one

French Beans

Green beans / ബീന്‍സ് - 3 Nos

Green chilli

പച്ചമുളക് - 4 Nos

Onion

സവോള - 1 No

Turmeric powder

മഞ്ഞള്‍പൊടി - 1 pinch

Sambar powder

സാമ്പാര്‍ പൊടി - 3 Table spoon

Asafoetida powder

കായം - 1 Tea spoon

Tamarind

പുളി – Gooseberry (നെല്ലിക്ക) sized ball

Coconut Oil

വെളിച്ചെണ്ണ - 2 Table spoon

Mustard seeds

കടുക് - 1 Tea spoon

Dry red chillies

വറ്റല്‍ മുളക് - 3 Nos

Shallot

ചെറിയ ഉള്ളി - 5 Nos

Curry leaves

കറിവേപ്പില - 2 Sprigs

Water

വെള്ളം - to cover the vegetables

Salt

ഉപ്പ് – to taste
INSTRUCTIONS
Wash dal and soak in water for minimum 20 minutes.

In the meantime, wash the vegetables very well. Cut the drum sticks into 2 inch pieces and the other vegetables into medium size (cube shape) pieces. Slice shallots and slit green chillies length wise.

Pressure cook dal and vegetables by adding turmeric powder, sambar powder (1 table spoon only), salt and enough water to cover the vegetables till you hear a whistle. Turn off the fire and wait till the pressure settles. (it usually takes more than 10 minutes)

In the meantime, soak tamarind in ½ cup of water for 5 minutes. Squeeze and take the extract from it and keep aside.

Heat remaining 2 table spoon sambar powder and asafoetida powder in a frying pan to avoid the raw taste.

When the pressure settles, open the pressure cooker and heat it again by adding tamarind extract, asafoetida and sambar powder for 2 minutes on a medium flame. Taste for salt.

Heat coconut oil in a pan and put mustard seeds. When it splutters, add shallots, dry red chillies & curry leaves and saute it. Add this to the prepared sambar.

Kerala sambar is ready for serving. Transfer to the serving dish and garnish with coriander leaves if required.
NOTES
You can include or exclude a vegetable, depending on the availability.
Instead of onion, shallots (10 Nos – without slicing) can be added for the better taste.
If you don't have sambar powder you can make it by mixing coriander powder (1¼ table spoon), kasmiri chilli powder (1¼ table spoon), turmeric powder (1 pinch), asafoetida powder (¾ tea spoon), fenugreek powder (1 pinch) and cumin powder (½ tea spoon).
Copyright © 2013 - 2023 Shaan Geo. All Rights Reserved.
According to me cooking is an equal-opportunity talent and I find that anybody can cook. It is not limited by the age, profession, caste, colour or creed of a person. What is needed is the love for cooking. For me the passion for cooking does not stop in the kitchen, when I travel, I continue to be inspired by eating in some of the best restaurants around the world.
31 comments on "
Kerala Sambar

"