Kichadi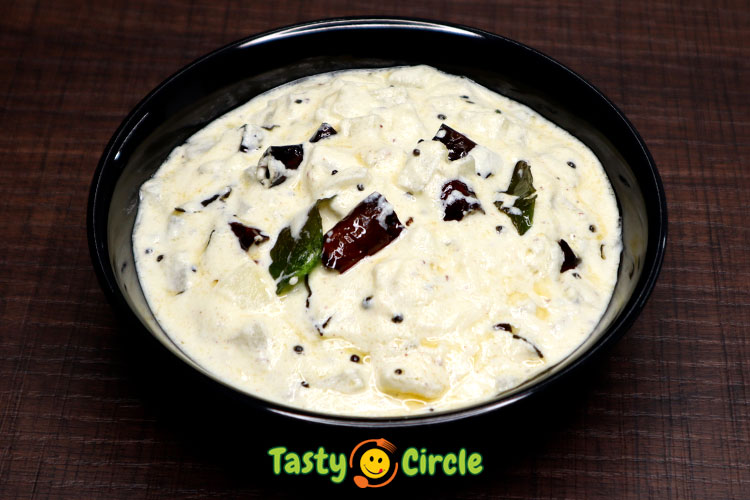 Watch Video (മലയാളം)
Kichadi
Kichadi is a curd based vegetarian dish usually served as a side dish for rice. It is healthy, delicious and easy to prepare. You can use vegetables like Yellow Cucumber (വെള്ളരിയ്ക്ക), ash gourd (കുമ്പളങ്ങ), bitter gourd (പാവക്ക), papaya etc. to prepare Kichadi. Here is the method of preparation. Here is the easy Kerala Onam Sadhya Kichadi recipe.
INGREDIENTS
Yellow Cucumber

വെള്ളരിയ്ക്ക - 2 Cups (Chopped)

Grated coconut

തേങ്ങ ചിരണ്ടിയത് - 1 Cup

Curd

തൈര് - 1 Cup

Green chilli

പച്ചമുളക് - 3 Nos

Curry leaves

കറിവേപ്പില - 1 Sprig

Mustard seeds

കടുക് - 1½ Tea Spoon

Coconut Oil

വെളിച്ചെണ്ണ - ½ Table Spoon

Salt

ഉപ്പ് – to taste
INSTRUCTIONS
Cut the cucumber and green chillies into small pieces.

Grind together the grated coconut, 1 tea spoon of mustard seeds and ½ cup of curd.

Cook the cucumber in a covered vessel by adding green chillies, salt and 1 cup of water. (medium heat)

Turn off the heat when it is cooked well. Add the ground mix and remaining ½ cup of curd. Combine well.

Heat ½ table spoon of coconut oil in a cooking pan and put ½ tea spoon of mustard seeds. When it splutters, reduce the heat and put curry leaves (1 sprig). Stir it for few seconds and add this to the prepared kichadi.

Transfer to the serving dish.
NOTES
If you are using bitter gourd (പാവക്ക) to prepare kichadi, fry it in oil instead of cooking it by adding water.
Copyright © 2013 - 2023 Shaan Geo. All Rights Reserved.
According to me cooking is an equal-opportunity talent and I find that anybody can cook. It is not limited by the age, profession, caste, colour or creed of a person. What is needed is the love for cooking. For me the passion for cooking does not stop in the kitchen, when I travel, I continue to be inspired by eating in some of the best restaurants around the world.
8 comments on "
Kichadi

"