Vendakka Mezhukkupuratti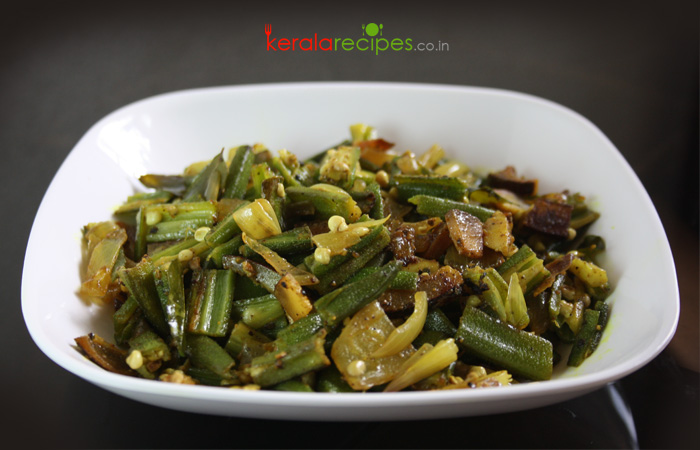 Vendakka Mezhukkupuratti / Okra (Lady's Finger) Stir Fry
Vendakka Mezhukkupuratti (Okra stir fry) is a delicious side dish for rice. It is very simple and easy to prepare. This dry dish, ideally prepared with tender Okra, is usually served with rice along with other "wet" gravy dishes.
INGREDIENTS
Okra / Lady's finger

വെണ്ടയ്ക്ക - 10 Nos

Thinly sliced Coconut

തേങ്ങാക്കൊത്ത് - ¼ Cup (Optional)

Pepper powder

കുരുമുളകുപൊടി - 1 Tea Spoon

Onion

സവോള - 1 No

Curry leaves

കറിവേപ്പില - 1 Sprig

Turmeric powder

മഞ്ഞള്‍പൊടി - 1 Pinch

Coconut Oil

വെളിച്ചെണ്ണ - 3 Table spoon

Mustard seeds

കടുക് - ½ Tea Spoon

Salt

ഉപ്പ് – to taste
INSTRUCTIONS
Wash the Okra (Lady's Finger) very well and slice it into 1 inch pieces. (See images in the bottom of this page)

Slice coconut and onion and keep aside.

Heat 3 table spoon of coconut oil in a non-stick pan and put mustard seeds. When it splutters, to this add onion and coconut slices. Saute it till the onions turn golden brown.

Put turmeric powder and ½ tea spoon black pepper powder into it and stir well. To this add Okra (Lady's Finger), curry leaves and salt. Combine well and cook it covered (about 8 minutes) on low flame till done.

Open the lid, add remaining ½ tea spoon pepper powder and cook it for 1-2 minutes to make it dry. Stir it occasionally. Taste for salt.

Remove from the flame and transfer the vendakka mezhukkupuratti to the serving dish.
NOTES
If you are using a pan which is not a non-stick, add 2 table spoon water to avoid it from burning.
Copyright © 2013 - 2023 Shaan Geo. All Rights Reserved.
According to me cooking is an equal-opportunity talent and I find that anybody can cook. It is not limited by the age, profession, caste, colour or creed of a person. What is needed is the love for cooking. For me the passion for cooking does not stop in the kitchen, when I travel, I continue to be inspired by eating in some of the best restaurants around the world.
17 comments on "
Vendakka Mezhukkupuratti

"