Puli Inji (Inji Puli)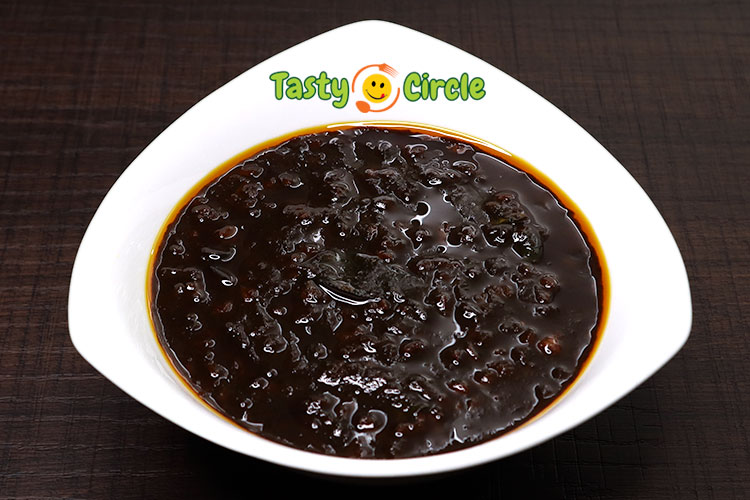 Watch Video (മലയാളം)
Puli Inji (Inji Curry)
Puli Inji also called Inji Puli or Inji Curry a sweet and sour ginger pickle usually served as an appetizer in Kerala Sadhya. It's a combination of tongue pleasing flavors. The main ingredients of puli inji are Ginger, Tamarind and Jaggery. It can be refrigerated and store like pickles.
INGREDIENTS
Finely chopped ginger

ഇഞ്ചി ചെറുതായി അരിഞ്ഞത് - 1 Cup

Green chilli

പച്ചമുളക് - 3 Nos

Curry leaves

കറിവേപ്പില - 1 Sprig

Tamarind

പുളി - Lemon sized ball

Chilli powder

മുളകുപൊടി - ½ Table spoon

Turmeric powder

മഞ്ഞള്‍പൊടി - 1 Pinch

Asafoetida powder

കായം - 1 pinch

Crushed Jaggery

ശര്‍ക്കര പൊടിച്ചത് - 1½ Table spoon

Coconut Oil

വെളിച്ചെണ്ണ - 2½ Table Spoon

Mustard seeds

കടുക് - ½ Tea Spoon

Salt

ഉപ്പ് - To taste
INSTRUCTIONS
Chop ginger, green chillies and curry leaves finely.

Dissolve tamarind in 1½ cup of warm water. Remove the seeds and any pieces that have not dissolved with the water.

Heat 2½ table spoon of coconut oil in a pan and put mustard seeds. When it splutters, add finely chopped ginger, green chillies, curry leaves and a little salt. Sauté it in a medium heat until it turns golden brown.

Reduce the heat, add chilli, turmeric and asafetida powders. Stir it for few seconds.

Next, add tamarind dissolved water and salt. Stir continuously in a medium heat, until the gravy thickens.

Proceed to add crushed jaggery, combine well and dissolve it.

Remove from heat and let it cool. Transfer the puli inji to a dry container and serve only after 3 hours to avoid the bitterness.
NOTES
Adding broken dry red chillies in step 3 will enhance the taste.
Puli Inji can be refrigerated and store like pickles. Use only dry spoons, whenever you take it for serving.
Adjust the quantity of chillies and jaggery to suite your taste.
Copyright © 2013 - 2023 Shaan Geo. All Rights Reserved.
According to me cooking is an equal-opportunity talent and I find that anybody can cook. It is not limited by the age, profession, caste, colour or creed of a person. What is needed is the love for cooking. For me the passion for cooking does not stop in the kitchen, when I travel, I continue to be inspired by eating in some of the best restaurants around the world.
47 comments on "
Puli Inji (Inji Puli)

"