Avial (Aviyal)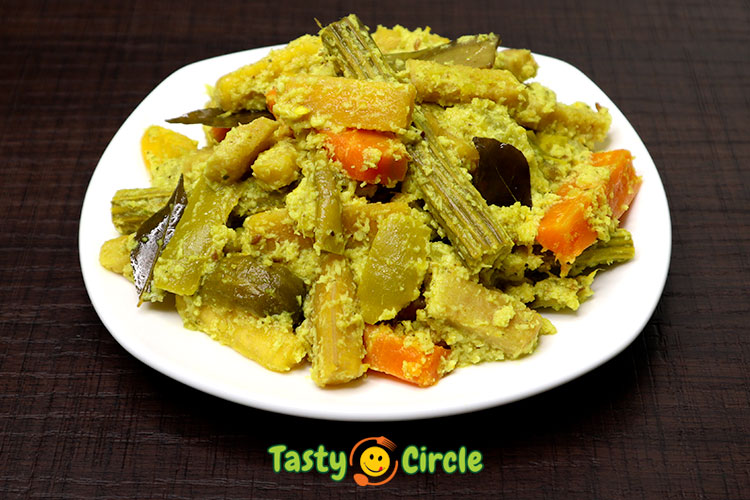 Watch Video (മലയാളം)
Avial (Aviyal) Recipe
Avial or Aviyal is a traditional side dish served as an accompaniment to rice. It is considered as an essential side dish of a Sadya especially Onam Sadya (a traditional vegetarian banquet). Avial has a unique position in Kerala as well as Tamil cuisine. It is a mixture of all kind of vegetables except soft and pulpy vegetables. You can include or exclude a vegetable, depending on the availability.
INGREDIENTS
Raw Plantain

നേന്ത്രക്കായ് - 1 No

Elephant foot yam

ചേന - 200 gm

Drumstick

മുരിങ്ങക്കായ് - 1 No

Ash gourd

കുമ്പളങ്ങ - 150 gm

Potato

ഉരുളക്കിഴങ്ങ് - 1 No

French Beans

Green beans / ബീന്‍സ് - 4 Nos

Snake gourd

പടവലങ്ങ - 100 gm

Carrot - 1 No

small

Green chilli

പച്ചമുളക് - 4 Nos

Turmeric powder

മഞ്ഞൾപൊടി - 1 pinch

Grated coconut

തേങ്ങ ചിരണ്ടിയത് - 1 Cup

Cumin seeds

ജീരകം - ½ Tea spoon

Curd

തൈര് - ½ Cup

Curry leaves

കറിവേപ്പില - 2 Sprigs

Shallot

ചെറിയ ഉള്ളി - 5 Nos

Coconut oil

വെളിച്ചെണ്ണ - 1½ Table spoon

Water

വെള്ളം - 1½ Cup

Salt

ഉപ്പ് – to taste
INSTRUCTIONS
Wash the vegetables very well. Peel and cut it into 2 inch (length wise) pieces.

Slice green chillies (length wise).

Cook the vegetables in a covered vessel by adding green chillies, water, salt and turmeric powder on a low flame till it tender and dry (be careful not to overcook it and also take care to prevent it from burning).

Crush the shallots and mix it with coconut oil.

Grind grated coconut and cumin seeds by adding little water into a coarsely paste.

Add the ground paste into the cooked vegetables along with curry leaves and combine it well. Heat it in a low flame for 3 minutes.

Pour lightly beaten curd to this and mix it. Remove from the fire, add coconut oil - shallots mix and combine it.

Serve Avial (Aviyal) as an accompaniment to rice.
NOTES
As each vegetable has a different level of cooking, it will be better to add vegetables according to the cooking time of each item. That means the longer cooking items first and quicker items last.
Copyright © 2013 - 2023 Shaan Geo. All Rights Reserved.
According to me cooking is an equal-opportunity talent and I find that anybody can cook. It is not limited by the age, profession, caste, colour or creed of a person. What is needed is the love for cooking. For me the passion for cooking does not stop in the kitchen, when I travel, I continue to be inspired by eating in some of the best restaurants around the world.
48 comments on "
Avial (Aviyal)

"