Olan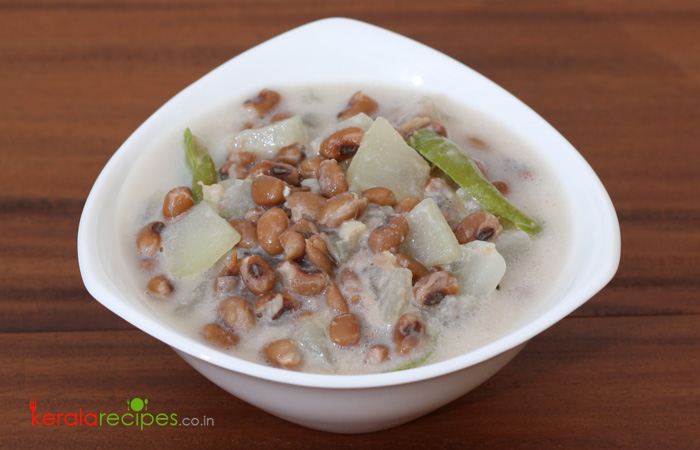 Olan
Olan is popular as a traditional Kerala side dish that is regular and essential at every Sadya. It is normally made using pumpkin/ash gourd and black-eyed beans. The ingredients are cooked in coconut milk, eventually giving the Olan a creamy and rich texture. This thick texture makes it easy to serve on a banana leaf during the feast. Olan is one of the simplest recipes yet it tastes very delicious with a great fragrance of coconut oil. The best part of Olan is that it is nutritious. Both ash gourd and cow peas have lots of nutrients and being low in calories, they are best for weight loss. Ash gourd is known to flush out the toxins from the body, provide a cooling effect and serve as a laxative as well. Cowpeas are rich in antioxidants and are known to reduce diabetic and cholesterol problems. So, Olan's health and nutrient factors make it ideal for adults whereas its incredible taste makes it a favorite of kids and teens.
INGREDIENTS
Ash gourd

കുമ്പളങ്ങ - 2 cup (chopped)

Black-eyed beans / Cowpeas

വന്‍പയര്‍ - ½ cup

Thick coconut milk

തേങ്ങാപാല്‍ - ¾ Cup

Green chilli

പച്ചമുളക് - 3 Nos

Coconut Oil

വെളിച്ചെണ്ണ - 1 Table Spoon

Curry leaves

കറിവേപ്പില - 1 Sprig

Salt

ഉപ്പ് – To taste
INSTRUCTIONS
Peel the ash gourd and remove the seeds. Cut it into small pieces. Slit green chillies lengthwise.

Wash and clean the black-eyed beans (cowpeas).

Pressure cook the beans by adding 2 cups of water and a little salt. When you hear the first whistle, reduce the heat to low and wait for 2 more whistles. Turn off the heat and keep it closed till the pressure settles (12-15 minutes). Drain the water after pressure drops.

Cook ash gourd in a covered vessel by adding green chillies, salt and 1¼ cup of water (medium heat).

When ash gourd is cooked, add the cooked cowpeas and curry leaves. Cook the mixture for another 2 minutes.

Now, add thick coconut milk and turn off the heat just prior the dish starts boiling.

Pour 1 table spoon of coconut oil and transfer the olan to the serving dish.
NOTES
1) Black-eyed beans and ash gourd should not be overcooked. Make sure their shape is retained.
2) Serve olan with boiled rice.
Copyright © 2013 - 2023 Shaan Geo. All Rights Reserved.
According to me cooking is an equal-opportunity talent and I find that anybody can cook. It is not limited by the age, profession, caste, colour or creed of a person. What is needed is the love for cooking. For me the passion for cooking does not stop in the kitchen, when I travel, I continue to be inspired by eating in some of the best restaurants around the world.
16 comments on "
Olan

"