Kuboos / Khubz / Pita bread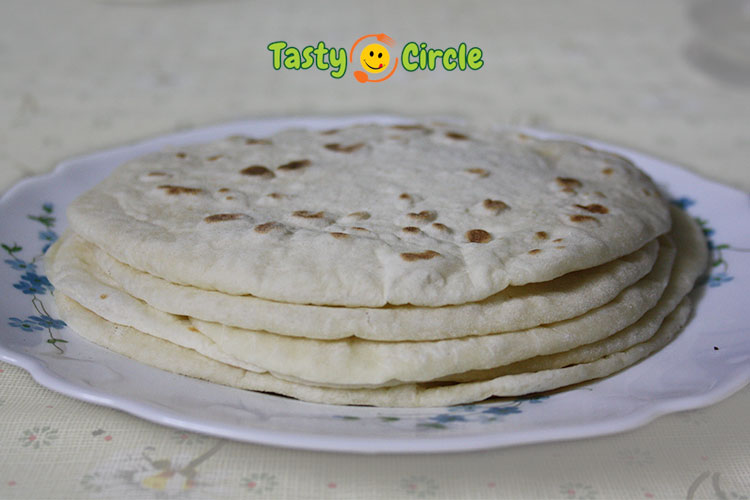 Kuboos / Khubz / Pita bread
Kuboos or Khubz is an Arabian pita bread/flat bread/roti made with wheat flour or all purpose flour. Before, kuboos was more familiar for malayalees who had a Middle East connection. But now it is in for everyone. Given here is an easy to make recipe. Khubz is usually baked in hot oven, but here we are going to prepare it in a flat non-stick pan.
INGREDIENTS
Wheat flour / Atta flour - 4 Cup

More wheat flour for dusting and rolling - ½ Cup

Warm water - ½ Cup

Yeast Active dry yeast - ½ Tea spoon

Sugar - 1 Dessert spoon

Milk - 1 Cup

Cooking oil / Ghee - 1 Table spoon

Salt – to taste
INSTRUCTIONS
Dissolve yeast in ½ cup of warm water (make sure that the water is not too hot) along with sugar and let sit for 10 minutes until it is frothy.

Combine wheat flour, yeast dissolved water and salt in a mixing bowl. Gradually add 1 cup of warm milk and mix it well with your hands until a dough consistency has formed. The dough should be smooth and firm but not stiff (add more milk or wheat flour, depending on the absorbency of the wheat flour).

Place the dough on to a lightly floured working surface and knead it well (approximately 5 minutes) with your hand till it is soft and smooth. The perfect kneading makes the kuboos/pita bread soft and puffy when it is cooked.

Return the ball of dough to a bowl and brush it with 1 table spoon cooking oil or ghee. Cover the bowl with kitchen towel or plastic wrap. Keep it in a warm place for minimum 2 hours and let rise until doubled in size.

When the dough rises almost double in size, knead it briefly. Make 12 equal sized balls from the kneaded dough and keep it covered with the kitchen towel for another 10 minutes.

Roll the balls like chappathi/poori to get round shape (almost double the thickness of chappathi/poori) using a roller/press by spreading wheat flour over it.

Heat a flat non-stick pan on medium flame, place the kuboos on it and wait for a few seconds and turn it to the other side. This time you wait for little more time and turn it again. Now press it using a spoon as shown in the below figure so that it puffs up. Turn it again and press it. Remove from the pan when it puffs up.

Keep it warm by covering it while cooking the remaining kuboos.

Serve it hot with any gravy type curry.
NOTES
Instead of cooking khubz in a flat non-stick pan you can also bake it in a pre-heated oven.
Copyright © 2013 - 2023 Shaan Geo. All Rights Reserved.
According to me cooking is an equal-opportunity talent and I find that anybody can cook. It is not limited by the age, profession, caste, colour or creed of a person. What is needed is the love for cooking. For me the passion for cooking does not stop in the kitchen, when I travel, I continue to be inspired by eating in some of the best restaurants around the world.
99 comments on "
Kuboos / Khubz / Pita bread

"