Vattayappam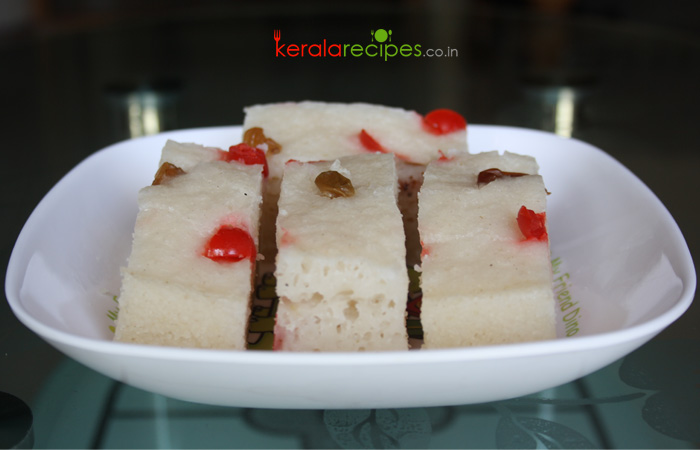 Vattayappam / Steamed Rice Cake
Vattayappam is a kind of steamed rice cake commonly served as a snack or breakfast. The main ingredients of this dish are rice flour and coconut milk. It is one of the traditional-healthy food of Kerala. Vattayappam is prepared especially during Easter and Christmas days.
INGREDIENTS
Fine rice flour

നന്നായി പൊടിച്ച അരിപ്പൊടി - 4 Cups

Warm water

ചെറു ചൂടുവെള്ളം - ½ Cup

Water

വെള്ളം - 2 Cups

Coconut milk

തേങ്ങ പാല്‍ - 1½ Cup

Yeast

Active dry yeast - ½ Tea spoon

Sugar

പഞ്ചസാര - ¾ Cup

Cardamom

ഏലക്ക - 5 Nos

Garlic

വെളുത്തുള്ളി - 1 Clove

Ghee

നെയ്യ് - 2 Tea spoon

Cashew nut

കശുവണ്ടി -15 Nos

Raisins

ഉണക്ക മുന്തിരി - 20 Nos

Cherry - 5 Nos

optional

Salt

ഉപ്പ് – To taste
INSTRUCTIONS
Dissolve yeast in ½ cup of warm water (make sure that the water is not too hot) along with ½ table spoon of sugar and let sit for 30 minutes until it is frothy.

Crush cardamom and garlic separately and keep aside.

Mix 2 table spoon of rice flour with 2 cups of water and boil it for 5 minutes by stirring it. Keep aside and let it cool.

Add this to the remaining rice flour along with yeast dissolved water, coconut milk, sugar, cardamom, garlic and salt. Mix it well in a mixer grinder. (The batter should be thick in consistency like idly batter)

Keep it overnight (8 hours) in a warm place for fermentation.

Spread evenly gee in a flat pan or an idli mould and pour the batter into it (fill up to half the pan).

Garnish it with cashew nut, raisins and cherry (optional).

Steam it (like idli) for 20 minutes in a medium heat. (close the lid only after the water starts boiling).

When it is done, remove from the flame and let it cool. Cut the vattayappam into desired shapes and serve it with a cup of tea/coffee.
NOTES
1) As the batter quantity increases during fermentation, use a vessel which can hold almost double the quantity.
2) Fine rice flour is mandatory for vattayappam (You can use idiyappam or appam rice flour, but puttu rice flour is not ideal for this dish).
Copyright © 2013 - 2023 Shaan Geo. All Rights Reserved.
According to me cooking is an equal-opportunity talent and I find that anybody can cook. It is not limited by the age, profession, caste, colour or creed of a person. What is needed is the love for cooking. For me the passion for cooking does not stop in the kitchen, when I travel, I continue to be inspired by eating in some of the best restaurants around the world.
55 comments on "
Vattayappam

"