Vellayappam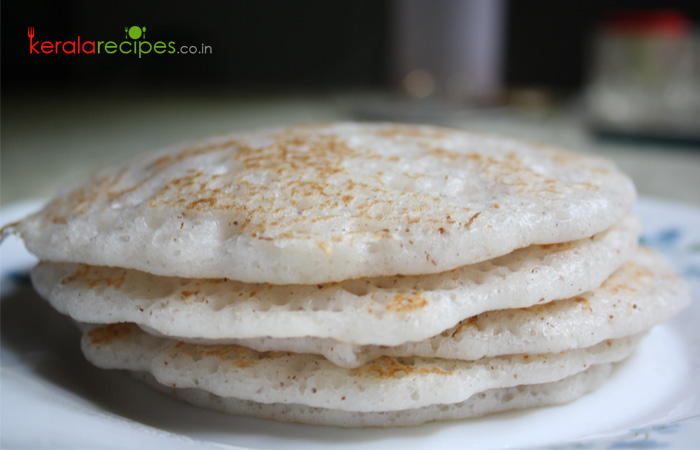 Vellayappam
Vellayappam is a widely accepted Kerala breakfast. It is healthy, delicious and easy to prepare. Its batter is made by grinding grated coconut and rice/rice flour with the other ingredients listed below. People usually confused with varieties of appam.
INGREDIENTS
Roasted rice flour

വറുത്ത അരിപ്പൊടി - 4 Cups

Warm water

ചെറു ചൂടുവെള്ളം - 1 Cup

Water

വെള്ളം - 2+1 Cup

Yeast

Active dry yeast - ½ Tea spoon

Sugar

പഞ്ചസാര - 2 Table spoon

Grated coconut

തേങ്ങ ചിരണ്ടിയത് - 2 Cups

Salt – to taste
INSTRUCTIONS
Dissolve yeast in 1 cup of warm water (make sure that the water is not too hot) along with sugar and let sit for 30 minutes until it is frothy.

Mix 2 table spoon rice floor with 2 cups of water and boil for 4 minutes by stirring it. Keep aside and let it cool.

Add this to the remaining rice floor along with yeast dissolved water, grated coconut and salt. Grind this well in a mixer grinder by adding 1 cup of water and make a smooth batter. (The batter should be thick in consistency like idly batter)

Keep it overnight (8 hours) in a warm place for fermentation.

Heat a flat non-stick pan on medium flame. Stir the batter and pour a ladle (thavi) full of batter to the pan and spread it lightly with the ladle (It should be almost double in thickness of a dosa). Cook it by turning both sides till it is slightly brown.

Repeat the previous step to make more vellayappams.
NOTES
1) Spread a little oil on the pan, if found sticky.
2) Each time you take the batter from the vessel to prepare vellayappam, stir well.
3) As the batter quantity increases during fermentation, use a vessel which can hold almost double the quantity.
Copyright © 2013 - 2023 Shaan Geo. All Rights Reserved.
According to me cooking is an equal-opportunity talent and I find that anybody can cook. It is not limited by the age, profession, caste, colour or creed of a person. What is needed is the love for cooking. For me the passion for cooking does not stop in the kitchen, when I travel, I continue to be inspired by eating in some of the best restaurants around the world.
6 comments on "
Vellayappam

"