Cherupayar Payasam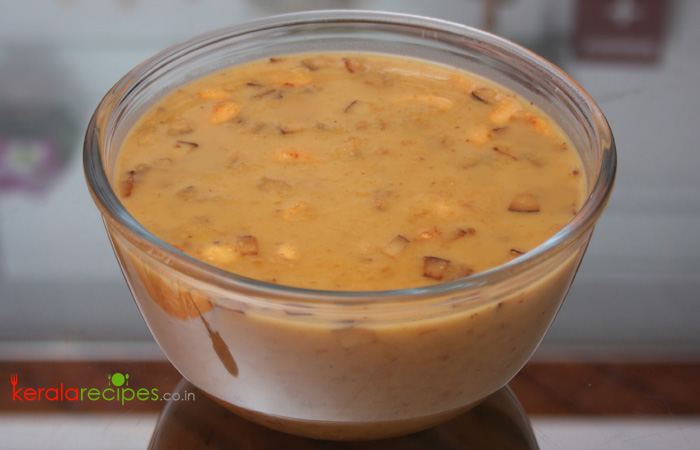 Cherupayar Payasam
Cherupayar payasam – everybody likes to have a little sweet after having a great meal. Here is the recipe of a popular Kerala dessert which can be served on your sweetest occasions. The key ingredient of cherupayar payasam is split mung bean (cherupayar). It is wonderful when it is served with 'poovan pazham' and 'pappadam'.
INGREDIENTS
Split mung bean

ചെറുപയര്‍ - 1 Cup

Crushed Jaggery

ശര്‍ക്കര പൊടിച്ചത് - 1 Cup

Thick coconut milk

തേങ്ങ പാല്‍ - ¾ Cup

Cashew nut

കശുവണ്ടി -10 Nos

Thinly sliced Coconut

തേങ്ങാക്കൊത്ത് - 1 Table spoon

Cardamom powder

ഏലക്ക പൊടിച്ചത് - ½ Tea spoon

Dry ginger powder

ചുക്ക് - ½ Tea spoon (optional)

Cumin powder

ജീരകം പൊടിച്ചത് - ½ Tea spoon (optional)

Ghee

നെയ്യ് - 2 Table spoon

Water

വെള്ളം - 4+½ Cup
INSTRUCTIONS
Roast the split mung bean in a pan by stirring continuously in a medium heat, till golden color.

Remove from the heat, wash it well and drain it.

Next, cook the mung bean by adding 4 cups of water in a covered vessel till done (medium heat).

In the meantime, crush the jaggery and make a syrup by boiling it with ½ cup water. Strain it for impurities.

When the mung bean is cooked well, pour the jaggery syrup into it. Stir continuously till it thickens.

Add dry ginger powder, cumin powder and cardamon powder. Stir it for 1 minute.

Remove from the flame and add 1 cup of thick coconut milk. Combine well.

Heat 2 table spoons of ghee in a pan. Fry coconut slices and cashew nuts one after another.

Add this (along with ghee) to the prepared cherupayar payasam.

Transfer to the serving dish.
NOTES
1) Instead of using water for cooking mung bean (cherupayar), you can use second and third extract of coconut milk.
Copyright © 2013 - 2023 Shaan Geo. All Rights Reserved.
According to me cooking is an equal-opportunity talent and I find that anybody can cook. It is not limited by the age, profession, caste, colour or creed of a person. What is needed is the love for cooking. For me the passion for cooking does not stop in the kitchen, when I travel, I continue to be inspired by eating in some of the best restaurants around the world.
42 comments on "
Cherupayar Payasam

"