White Lemon Pickle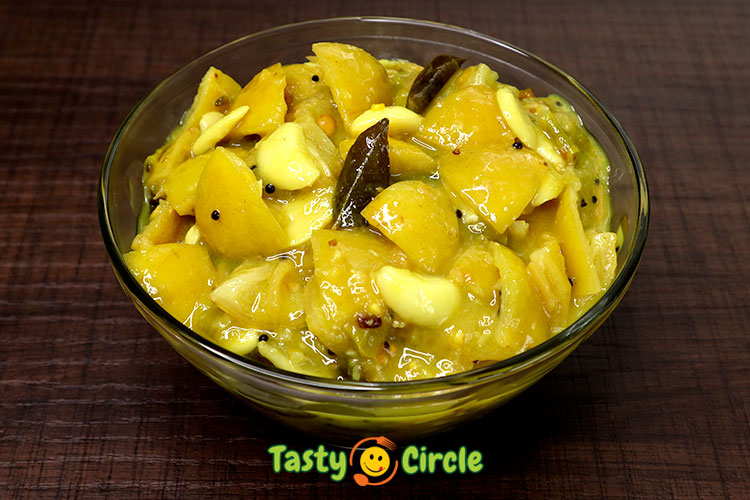 Watch Video (മലയാളം)
White Lemon / Lime Pickle
White Lime / Lemon Pickle also called Velutha Naranga Achar is not only tasty but also great for digestion when consumed in moderate amounts. It is a great companion to really bland foods and also to the highly flavoured Biryanis. It goes with everything as it has the right mix of hot, sour, salty and spicy taste. To cut short, White Lemon / Lime pickle is a blast of flavours and refuses to be ignored. We are using common Green Chillies in this recipe, but the ideal mate is the Bird's Eye Chilli. Please try this Kerala style recipe and post your feedback in the comment section below.
INGREDIENTS
Lime / Lemon

നാരങ്ങ - 1kg (30 Nos)

Salt

ഉപ്പ് - 9 Tablespoons (115gm)

Cooking Oil

എണ്ണ - ¾ Cup

Mustard Seeds

കടുക് - 2 Teaspoons

Fenugreek Seeds

ഉലുവ - 1 Teaspoon

Ginger

ഇഞ്ചി - ¾ Cup (75gm)

Garlic

വെളുത്തുള്ളി - 1 Cup (150gm)

Green Chilli

പച്ചമുളക് - 30 Nos (125gm)

Curry Leaves

കറിവേപ്പില - 4 Sprigs

Turmeric Powder

മഞ്ഞള്‍പൊടി - ¾ Teaspoon

Vinegar

വിനാഗിരി - 2 Tablespoons

Sugar

പഞ്ചസാര - 6 Tablespoons (80gm)
INSTRUCTIONS
Take 1 kg of Lime; that would be about 30 medium-sized Limes. We need ripe yellow coloured Limes for making Pickle. Green unripe ones will leave a bitter taste. Cut it into 4-8 pieces according to your preference.

Onto the cut pieces, add 8 tablespoon (½ cup, 100 gm) of Salt. If you are using very sour Limes, add a bit more Salt. Stir and mix it well. Cover and let it sit for about 30 minutes.

Heat a pan or kadai and add ¾ cup of Oil. When the Oil is really hot, add 2 teaspoon of Mustard Seeds and 1 teaspoon of Fenugreek Seeds.

When the spluttering ceases, add ¾ cup of chopped Ginger, 1 cup of Garlic (150 grams of cleaned and peeled) and sauté on a high flame for about 2 minutes.

After sautéing for 2 minutes, add 30 medium-sized Green Chillies (chopped) , 4 sprigs of Curry Leaves and add 1 tablespoon of Salt and mix well. Sauté well for 2 more minutes till done. The choicest way is to add 100 gm of Bird's Eye Chilli.

Turn down the flame to the lowest. Add ¾ teaspoon of Turmeric Powder. Sauté well for 10 seconds.

Now add the salted Lemons along with the water. Turn up the flame to the highest and mix well. Stir intermittently till it starts to boil. When it starts to boil, set the flame to a medium level; cover the pan and let it cook for about 4 minutes.

After 4 minutes, open the lid and stir. Keep it open and let it cook for 1 more minute.

Now, add 2 tablespoon of Vinegar and 6 tablespoon of Sugar and mix well. Turn off the flame and let the Lime pickle cool down.
NOTES
Store the Lemon Pickle (Velutha Naranga Achar) in an air-tight container when it has cooled down well. Let it set for minimum 5 days and then use it.
Copyright © 2013 - 2023 Shaan Geo. All Rights Reserved.
According to me cooking is an equal-opportunity talent and I find that anybody can cook. It is not limited by the age, profession, caste, colour or creed of a person. What is needed is the love for cooking. For me the passion for cooking does not stop in the kitchen, when I travel, I continue to be inspired by eating in some of the best restaurants around the world.
One comment on "
White Lemon Pickle

"