Pathiri (Ari Pathiri)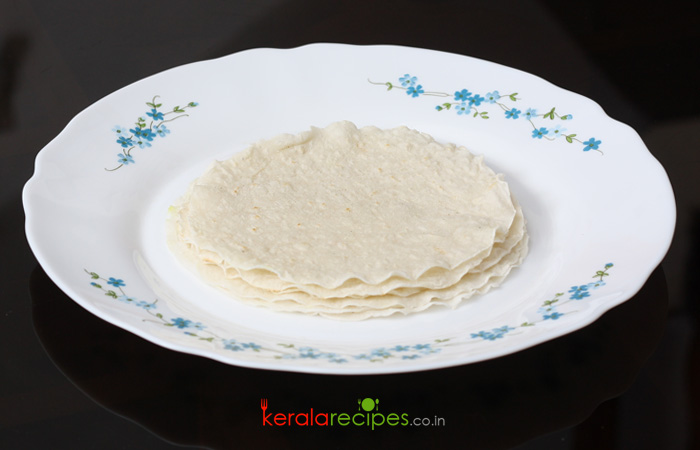 Pathiri / Rice Pathiri / Ari Pathiri
Rice Pathiri or Ari Pathiri is a kind of thin traditional roti made from rice flour. It originated from Malabar region (northern part of Kerala) especially from the Muslims of Malabar region. Nowadays it is commonly served in all parts of Kerala. Pathiri is usually served for both breakfast and dinner along with gravy type curries. There are many varieties of pathiri recipes and here you can get a very simple and traditional Ari pathiri recipe.
INGREDIENTS
Fine roasted rice flour

നന്നായി പൊടിച്ച്‌ വറുത്ത അരിപ്പൊടി - 4 Cups

More rice flour for dusting and rolling - ½ Cup

Water

വെള്ളം - 4 Cups

Ghee

നെയ്യ് - 1 Table spoon

Salt

ഉപ്പ് – to taste
INSTRUCTIONS
Boil 4 cups of water in a sauce pan adding ghee and salt.

When it boils, reduce the flame, add fine roasted rice flour and mix it evenly with a spoon.

Remove from the flame and keep it covered for 2 to 3 minutes.

When the dough is still warm, knead it well with your hand till it is soft and smooth. (if it is too hot try dipping your hand in cold water while kneading). Add more water or rice flour, depending on the absorbency of the rice flour.

Make lemon sized balls from the kneaded dough.

Roll the balls like chappathi/poori to get thin round shape using chappathi roller/press by spreading rice flour over it.

If required, cut it into perfect round shape using some cutter or lid of a steel tiffin box. The remaining parts can be used to make another one.

Heat a flat non stick pan on medium flame, place the pathiri on it and wait for a few seconds and turn it to the other side. This time you wait for little more time and turn it again. Remove from the pan when it puffs up. Make sure that the pathiris are not getting brown. (do not use oil).

Serve it with coconut milk and gravy type curry.
NOTES
1) Fine roasted rice flour is mandatory for Rice Pathiri. Otherwise, I recommend not trying this recipe. (Pathiri rice flour is available in most of the Kerala grocery marts. You can use Idiyappam rice flour also)
2) A perfect kneading is required for good pathiris.
Copyright © 2013 - 2023 Shaan Geo. All Rights Reserved.
According to me cooking is an equal-opportunity talent and I find that anybody can cook. It is not limited by the age, profession, caste, colour or creed of a person. What is needed is the love for cooking. For me the passion for cooking does not stop in the kitchen, when I travel, I continue to be inspired by eating in some of the best restaurants around the world.
18 comments on "
Pathiri (Ari Pathiri)

"