Coconut Pudding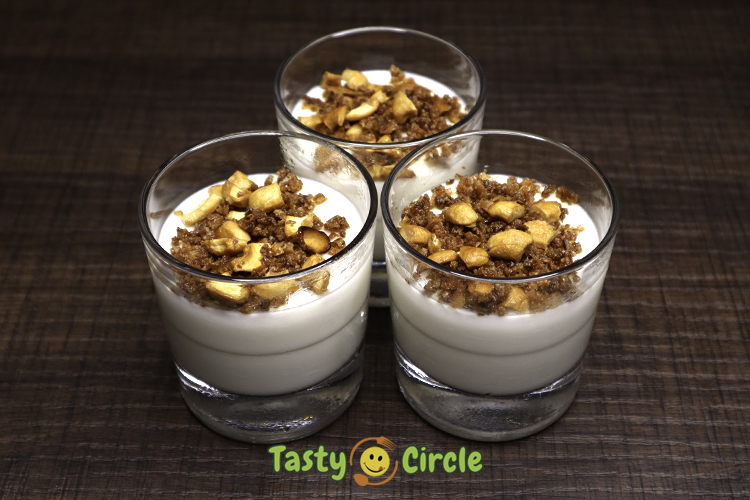 Watch Video (മലയാളം)
Coconut Pudding
Loaded with goodness of Coconut this Pudding is an all time favourite dessert. And without a shade of doubt, it's a treat to the eyes as well. The truly versatile nature of this easy Coconut Pudding recipe can be explored by using varieties of toppings over it.
INGREDIENTS
Gelatin Powder

ജെലാറ്റിൻ - 5 Teaspoons

Water

വെള്ളം - 100ml

Grated Coconut

തേങ്ങ ചിരണ്ടിയത് - 3 Cups

Warm Milk

അല്പം ചൂടോടുകൂടിയ പാൽ - 2 Cups (500ml)

Sugar

പഞ്ചസാര - 6 Tablespoons

Grated Coconut

തേങ്ങ ചിരണ്ടിയത് - ½ Cup

Cashew Nut

കശുവണ്ടി - 2 Tablespoons

Sugar

പഞ്ചസാര - 3 Tablespoons
INSTRUCTIONS
Take 5 teaspoon (1½ tablespoon) of unflavoured Gelatin Powder and add 100 ml of Water and mix well. The amount of Water must be 4 times than that of Gelatin. Let it rest for at least 10 minutes. This process is known as "Gelatin Blooming."

Take 3 cups of Grated Coconut and 2 cups (500 ml) of lukewarm Milk. Add the grated Coconut into a mixer. Add 1 cup of warm Milk into it. Crush it slightly in the mixer and strain the Coconut Milk. With the residue Coconut, add the balance warm Milk, crush it once again in the mixer and strain more Coconut Milk. Into this, add 6 tablespoon of Sugar. Mix it well until the Sugar completely dissolves.

Now melt the Gelatin that has bloomed now. The easiest method, is to microwave it for 15-20 seconds OR you can keep this bowl in boiling water and melt. Whichever method you choose, DO NOT boil the Gelatin.

The texture of Gelatin has changed upon heating. Add this into the Coconut Milk while stirring and combine well. We cannot use China Grass as we cannot heat the Coconut Milk.

Choose a mould/serve-ware of your choice. Refrigerate it for 3-4 hours. DO NOT freeze it. Since Coconut's flavour is mild, cover and keep it or else it might absorb the flavour of other items kept inside the refrigerator.

To prepare a topping for the pudding, heat a pan and add ½ cup of Grated Coconut, 2 tablespoon of chopped Cashews and 3 tablespoon of Sugar. Mix and roast these on a medium flame till it becomes brown in colour.

Turn off the flame then and stir it for some more time, or else it will roast more due to heat of the pan. You can make more of this topping and store it for 8-10 days in an air-tight container.

Take out the Coconut Pudding which was kept for setting in the refrigerator for about 4 hours and add the toppings on it. Do it right before serving only to retain the crunchiness.
NOTES
Instead of using this topping, you can add crushed Peanut Brittle or Sesame Candy Balls.
Copyright © 2013 - 2023 Shaan Geo. All Rights Reserved.
According to me cooking is an equal-opportunity talent and I find that anybody can cook. It is not limited by the age, profession, caste, colour or creed of a person. What is needed is the love for cooking. For me the passion for cooking does not stop in the kitchen, when I travel, I continue to be inspired by eating in some of the best restaurants around the world.
One comment on "
Coconut Pudding

"