Simple Chocolate Cake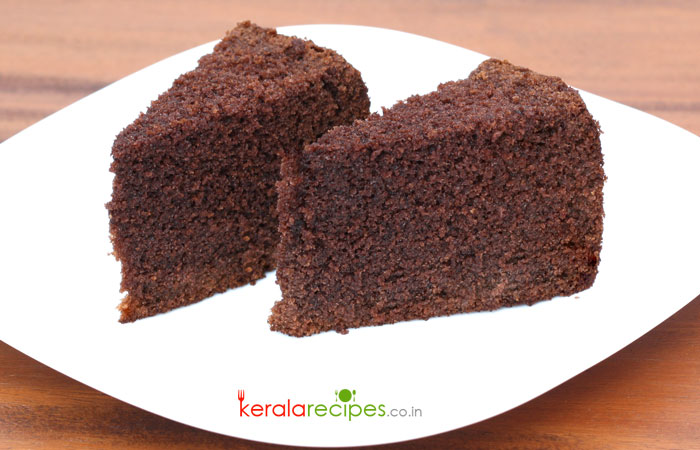 Chocolate Cake
A simple chocolate cake is perfect for a number of occasions. You can have it as an evening snack along with tea or you can prepare it for a birthday or a get together with friends or family. What's more, you can surprise and delight your loved one by preparing this awesome dessert. It goes well with any occasion. Well, chocolate cake is one of the favorite all time desserts of everyone. From kids to elders, each one loves that amazing taste of this lip smacking dessert. The unsweetened cocoa powder provides the rich chocolate flavor and the best part is that it is non-fatty. Good news is that it is easy to make. There are many versions and flavors of a chocolate cake; however, this cake recipe can be prepared within minutes at home and one doesn't need to be really skilled to prepare one. With less effort, you can make the entire family treat their taste buds with awesomeness.
INGREDIENTS
All-purpose flour – 1 Cup

Unsweetened Cocoa powder – 3 Table spoons

Baking Soda – ½ Tea spoon

Salt – 1 Pinch

Milk – ½ Cup

Instant Coffee powder – ½ Tea spoon

Egg – 2 Nos

Vanilla Extract – 1 Tea spoon

Powdered Sugar – 1 Cup

Vegetable Oil – 1/3 Cup
INSTRUCTIONS
Make sure that all the ingredients are in room temperature.

Pre-heat the oven at 180 Degree Celsius (350 Degree Fahrenheit) for about 10 minutes.

Grease a 7 inch round cake pan and set aside.

In a mixing bowl, whisk together the all-purpose flour, baking soda, cocoa powder, and salt; keep aside.

Combine together milk and coffee powder; set aside.

In another bowl, beat the eggs and vanilla extract together using an electric hand mixer in a medium-high speed for about 3 minutes. (While beating the eggs, make sure that you move the egg whisk (egg beater) in a single direction; either clock wise or anti clock wise)

Add powdered sugar and continue beating for another minute.

To this mixture, pour vegetable oil and beat for yet another minute.

Now pour the milk and coffee mixture and continue beating for 30 seconds in low speed.

To this mixture, add the powdered ingredients (step 4) little by little and gently mix using a spatula to form a smooth cake batter. (Do not use the electric hand mixer)

Pour the chocolate cake batter to the greased baking pan. Tap the pan on a counter top to release any air bubbles in the cake batter.

Bake it in the pre-heated oven at 180 Degree Celsius (350 Degree Fahrenheit) for about 30 to 35 minutes (Until a toothpick inserted in the middle of the chocolate cake comes out clean.)

Remove from the oven and let the cake sit in the pan for 10 minutes. Run a long knife around the edge of the baking pan. Then, twirl the cake out on the racks so that it cools completely.
NOTES
In order to preserve moisture and to prevent the cake from becoming dry, make sure you store it in a clean dry air tight container.
If you wish to, garnish the chocolate cake with your favorite frosting.
Copyright © 2013 - 2023 Shaan Geo. All Rights Reserved.
According to me cooking is an equal-opportunity talent and I find that anybody can cook. It is not limited by the age, profession, caste, colour or creed of a person. What is needed is the love for cooking. For me the passion for cooking does not stop in the kitchen, when I travel, I continue to be inspired by eating in some of the best restaurants around the world.
13 comments on "
Simple Chocolate Cake

"