Laddu (Ladoo)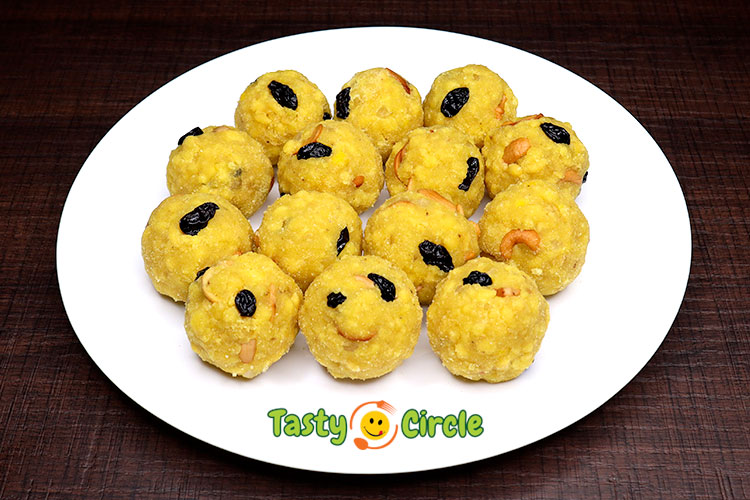 Watch Video (മലയാളം)
Laddu (Ladoo)
This desirable spherical sweet is very popular across all parts of India. There are number of varieties of Laddu, but in this recipe, we are preparing Boondi Ladoo. The main ingredients are Gram Flour and Sugar. The making is easy, interesting and above all worth the effort for all the yumminess that you get.
INGREDIENTS
Gram Flour (Besan)

കടലമാവ് - 2 Cups (180gm)

Salt

ഉപ്പ് - ¼ Teaspoon

Baking Soda

ബേക്കിംഗ് സോഡാ - 1 Pinch (optional)

Water

വെള്ളം - ¾ Cup (160ml) - Approximately

Refined Oil

എണ്ണ - to deep fry

Sugar

പഞ്ചസാര - 2 Cups (450gm)

Water

വെള്ളം - ½ Cup (120ml)

Food Colour

Yellow - Few Drops (Optional)

Cardamom Powder

ഏലക്ക പൊടിച്ചത് - ¼ Teaspoon (Optional)

Ghee / Clarified Butter

നെയ്യ് - 3 Tablespoons (Optional)

Cashew Nut

കശുവണ്ടി - ¼ Cup (Optional)

Raisins

ഉണക്കമുന്തിരി - ¼ Cup (Optional)

Sugar Candy

കൽക്കണ്ടം - 2 Tablespoons (Optional)
INSTRUCTIONS
Take 2 cups of Gram flour and sieve it to avoid any clumps. Add ¼ teaspoon of salt, a pinch of Baking Soda (optional) and mix them well. Add approximately ¾ cup of Water to it in batches and mix well, till you reach the consistency of Dosa batter. You may add turmeric powder for colour while mixing the flour. If you are using food colour, add it in the final stage. Let it rest for 10 minutes.

Heat enough Refined Oil needed to deep fry in a pan. Now, set the flame to Medium level, take a slotted spoon, pour the batter slowly and make the drops fall into the heated oil using swirling motion. Do not let the batter stay in the oil for more than 5-10 seconds. If it stays for long, it will become crispy. Boondis will be round if the hydration is perfect.

To make sugar syrup, into a pan, add 2 cups of Sugar. Add in exactly ½ cup of Water and blend the mixture till rolling boil. Add the boondis into the rolling boiling syrup. Do not let the syrup boil too long to prevent thickening. If you want colour for the Laddu, you may add the yellow food colour now. Mix it well and turn off the flame. Add ½ teaspoon of Cardamom powder (Optional). Combine and mix well. When almost half of the syrup is absorbed by the boondis, let it rest for some time till the heat becomes handleable.

(OPTIONAL) Now fry some Cashews and Raisins in Ghee and add to it. Into 3 tablespoon of Ghee, add in ¼ cup of Cashews. When Cashews turn golden brown, add ¼ cup of Raisins to it and add them to the boondi mixture. You may even add 2-3 tablespoon of Ghee alone to it directly, omitting the two. (OPTIONAL) Add 2 tablespoon of Sugar Candy.

Right when the heat becomes bearable, make them into Laddu. While rolling, press gently and make balls. After rolling, let it set for 2-3 hours. It would be better you let it set for a day.
NOTES
Refrigerate the Ladoo if you wish to keep it for more days, as we have not used any preservatives.
Copyright © 2013 - 2023 Shaan Geo. All Rights Reserved.
According to me cooking is an equal-opportunity talent and I find that anybody can cook. It is not limited by the age, profession, caste, colour or creed of a person. What is needed is the love for cooking. For me the passion for cooking does not stop in the kitchen, when I travel, I continue to be inspired by eating in some of the best restaurants around the world.
2 comments on "
Laddu (Ladoo)

"