Palada Pradhaman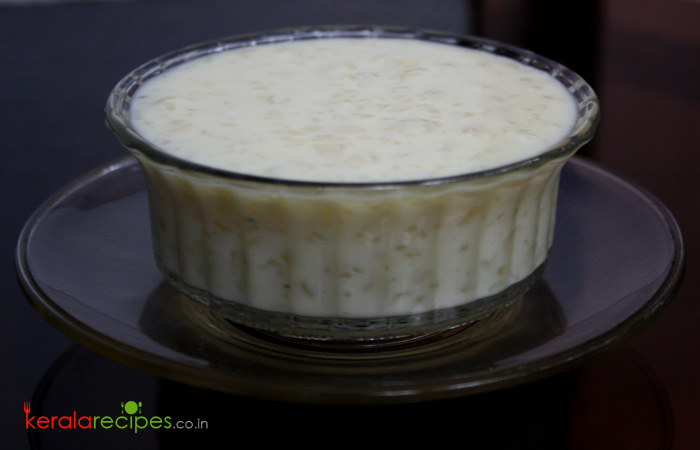 Palada Pradhaman – traditional style
Palada pradhaman is a traditional dessert, which is usually served after the 'sadhya' (a traditional banquet). It comes under the category of payasam. Nowadays, there are many quick and easy methods to prepare this dessert. Here you can try a traditional kerala palada pradhaman.
INGREDIENTS
Fine rice flour

നന്നായി പൊടിച്ച അരിപ്പൊടി- 1 Cup

Hot water

ചൂടുവെള്ളം - as required

Milk

പാല്‍ - 1 Litre

Sugar

പഞ്ചസാര - ¾ Cup
INSTRUCTIONS
To make the 'ada', pour hot water (as required) to the rice flour and mix it evenly. Knead it well with your hand till it is soft and smooth.

Spread the dough on a plantain leaf or an aluminium foil as thin as possible.

Steam it for 10 minutes.

Pour milk into a vessel and boil it. Reduce the flame and add sugar to it. Stir it continuously till the milk thickens and becomes almost half of the quantity.

Separate the ada from the plantain leaf / aluminium foil. Cut it into small pieces (½ inch pieces).

Add the ada to the boiling milk, stir it for a few minutes and remove from the flame.

Usually a traditional palada pradhaman will not be garnished. If you want, garnish it with cashew nut and raisins which is fried in ghee (optional).

Serve it hot or cold as desired.
NOTES
Instead of cooking ada directly in boiling water (which is a bit difficult for beginners), here I used the method of steaming.
Copyright © 2013 - 2023 Shaan Geo. All Rights Reserved.
According to me cooking is an equal-opportunity talent and I find that anybody can cook. It is not limited by the age, profession, caste, colour or creed of a person. What is needed is the love for cooking. For me the passion for cooking does not stop in the kitchen, when I travel, I continue to be inspired by eating in some of the best restaurants around the world.
17 comments on "
Palada Pradhaman

"