Pazham Pori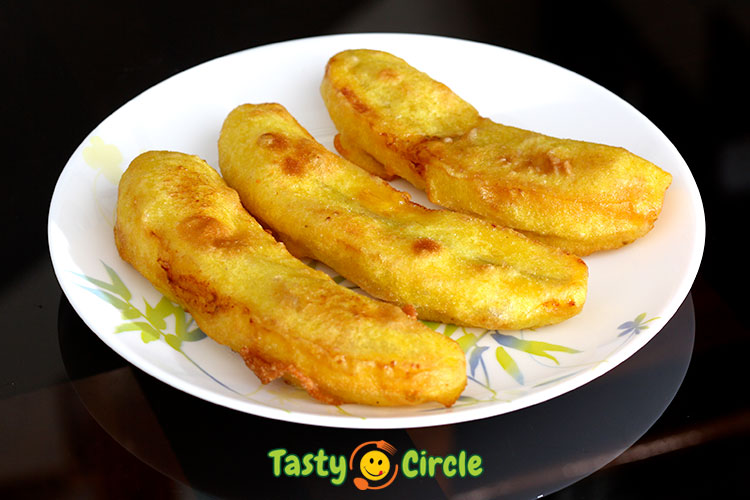 Watch Video (മലയാളം)
Pazham Pori (Ethakka Appam)
Pazham pori is an all time favorite snack of malayalees. It is also called "Ethakka appam". It is an easy to prepare snack which does not require any great cooking experience. Anyone can make it quickly. People usually use 'all purpose flour' (മൈദ) for making this dish. If you are more health conscious, use 'atta flour' instead of all purpose flour for making the Pazham Pori (Ethakka Appam).
INGREDIENTS
Ripe plantain

ഏത്തപ്പഴം – 3 Nos

All purpose flour

മൈദ – 1 Cup

Rice flour

അരിപ്പൊടി – 1 Table spoon

Sugar

പഞ്ചസാര – 1 Table spoon

Turmeric powder

മഞ്ഞള്‍പൊടി – 1 Pinch (optional)

Water

വെള്ളം ¾ Cup

Salt

ഉപ്പ് – to taste

Oil

എണ്ണ – to deep fry
INSTRUCTIONS
Peel the plantains and slit it lengthwise.

In a bowl, take all purpose flour, rice flour, sugar, turmeric powder and salt. Blend it nicely by adding ¾ cup of water.

Dip the plantain slices in the prepared batter and evenly coat them.

Heat the oil in a deep bottom pan. When it is hot, deep fry the batter coated plantain slices by turning both sides till golden brown.

Serve the Pazham Pori hot with a cup of tea after draining the excess oil using a paper towel.
NOTES
Instead of rice flour, you can use Semolina (Rava/റവ) as an alternative. It is mainly used to keep the Pazham Pori more crispy.
You can also use 'atta flour' instead of all purpose flour.
Copyright © 2013 - 2023 Shaan Geo. All Rights Reserved.
According to me cooking is an equal-opportunity talent and I find that anybody can cook. It is not limited by the age, profession, caste, colour or creed of a person. What is needed is the love for cooking. For me the passion for cooking does not stop in the kitchen, when I travel, I continue to be inspired by eating in some of the best restaurants around the world.
56 comments on "
Pazham Pori

"