Fish Molly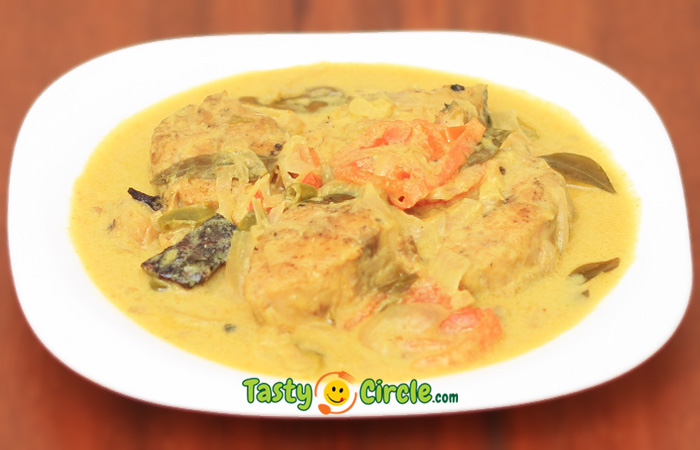 Fish Molly (Fish Molee)
Well, if you ask anybody in Kerala about their favorite fish curries, definitely, Fish Molly will top the list. The Malayalam word 'molee' means 'stew'. In fact, this is one of the finest fish curry variants in the state. Fish Molee is a yummy dish which goes well with a number of main dishes. It is prepared by marinating fish pieces and then shallow frying them, followed by cooking the fried pieces in coconut milk. In fact, Fish Molly marks the foreign influence on Kerala cuisine, particularly that of the Portuguese. Fish used for recipe can range anything from the Kingfish to Pomfrets to any other fish that is pretty fleshy. This mild, delicate dish is equally loved by kids and adults. For anyone who loves fish curry, this dish is a real treat! The best part is that it is sinfully easy to make and completely addictive. No wonder it is a popular dish in Kerala. As mentioned earlier, Fish Molly tastes great with many main dishes, especially palappam, appam, rice, idiyappam and even chapathi and roti.
INGREDIENTS
Fish steaks

medium sized pieces - ½ kg

Cinnamon

കറുവാപ്പട്ട - 2 Pieces (1 inch each)

Clove

ഗ്രാമ്പു - 6 Nos

Cardamom

ഏലക്കാ - 3 Nos

Peppercorn

കുരുമുളക് - 2 Tea spoons

Coriander powder

മല്ലിപ്പൊടി – ½ Table spoon

Turmeric powder

മഞ്ഞൾപൊടി – ¼ + ¼ Tea spoon

Green chilli

പച്ചമുളക് – 4 Nos

Ginger

ഇഞ്ചി – 1 Inch Piece

Garlic

വെളുത്തുള്ളി - 5 Cloves

Shallot

ചെറിയ ഉള്ളി - 10 Nos

Onion

സവോള - 1 No

Tomatoes

തക്കാളി – 1 No (Small Size)

Thin coconut milk

കട്ടികുറഞ്ഞ തേങ്ങ പാല് – 1½ Cup

Thick coconut milk

കട്ടികൂടിയ തേങ്ങ പാല് – ½ Cup

Lime Juice

നാരങ്ങനീര് - ½ + ½ Table spoon

Curry leaves

കറിവേപ്പില - 1 Sprig

Coconut Oil

വെളിച്ചെണ്ണ - 4 Table Spoons

Salt

ഉപ്പ് - To taste
INSTRUCTIONS
Crush the peppercorns.

Marinate the chosen fish pieces with lime juice (½ table spoon), turmeric powder (¼ tea spoon), half of the crushed pepper and required salt for a minimum of 15 minutes.

Fine-chop green chillies, garlic, ginger and shallots. Slice the onion and the tomatoes. Crush the cardamom.

Heat 3 table spoons of coconut oil in a cooking pan. Shallow fry the marinated fish pieces by turning both sides for 2 minutes each side (half cook). Keep it aside.

To the same cooking pan along with the oil left after frying the fish, add one more table spoon of coconut oil. When the oil is hot, add cinnamon, clove and cardamom. Stir it for a few seconds.

Reduce the heat to medium and add the chopped garlic, ginger and green chilly. Sauté it for a few seconds and then add sliced shallots and onions. Continue sautéing by adding a little salt.

When the onions turn golden brown, reduce the heat to low. Add coriander powder (½ table spoon) and turmeric powder (¼ tea spoon), stir it for a few seconds.

Pour 1½ cup of thin coconut milk and allow it to boil by stirring occasionally.

When it starts boiling, add the fried fish pieces and curry leaves (1 sprig). Reduce the heat to medium when it starts boiling. Stir occasionally by rotating the pan (Do not stir using the spoon or ladle as the cooked fish might break). Cook it covered in medium flame.

When the fish molly is cooked completely, add sliced tomatoes, ½ table spoon of lemon juice and the remaining crushed peppercorns. After a minute, add ½ cup of thick coconut milk and stir by rotating the pan. Remove from the heat when the curry starts boiling.

Transfer the fish molee into a serving dish.
NOTES
1) The ideal fish for this recipe are King fish (Seer fish/Ney Meen), Pomfret (Avoli), Pearl spot (Karimeen), etc.
2) As tomatoes and coconut milk are being added in fish molly recipe, it does not stay edible for a long time; so you will have to eat and finish the curry on the very same day you cooked it.
3) You can use pepper powder instead of crushed pepper. However, I strongly recommend using freshly crushed black pepper for better taste and colour.
4) Enjoy the fish molly (fish molee) with appam, puttu, bread, pathiri, idiyappam, rice, chappathi, paratha, etc.
Copyright © 2013 - 2023 Shaan Geo. All Rights Reserved.
According to me cooking is an equal-opportunity talent and I find that anybody can cook. It is not limited by the age, profession, caste, colour or creed of a person. What is needed is the love for cooking. For me the passion for cooking does not stop in the kitchen, when I travel, I continue to be inspired by eating in some of the best restaurants around the world.
3 comments on "
Fish Molly

"