Chicken Stew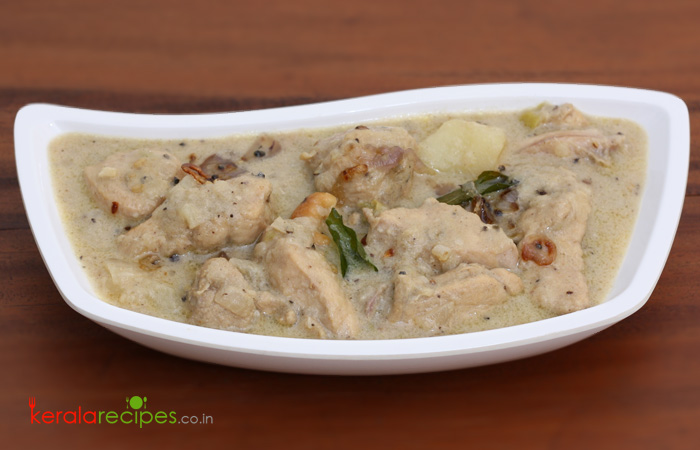 Chicken Stew
Chicken stew is a very delicious and warming meal. The best part is that it is easy to make and you can explore many different variations of this mouthwatering dish. This unique non veg stew is an indispensable part of Christmas menu in Kerala. Keralites cannot imagine a Christmas breakfast without the chicken stew and appam. Even otherwise, this tasty stew with appam is a popular breakfast in Kerala. The simple and aromatic stew never fails to win the hearts of everyone. The stew is made by slowly simmering chicken and potato cubes in a lightly spiced coconut milk base. One can also choose to add vegetables such as beans, carrots and peas to increase the nutritional value of the chicken stew. Besides appam, the chicken stew makes for a great side dish for paratha, roti, puttu and rice. The recipe, being a comfort food, is enjoyed by everybody. It is a common dish that is served at various social gatherings like family reunions, church fellowships and community fundraisers. Since a long time ago, chicken stew was a trendsetter in marriages, particularly in Syrian Catholic weddings.
INGREDIENTS
Chicken

Cleaned - ½ kg

Potato

ഉരുളക്കിഴങ്ങ് - 1 No (medium size)

Cinnamon

കറുവാപ്പട്ട - 3 Pieces (1 inch each)

Clove

ഗ്രാമ്പു - 6 Nos

Cardamom

ഏലക്കാ - 4 Nos

Peppercorn

കുരുമുളക് - 2 Tea spoon

Cashew nut

കശുവണ്ടി - 10 Nos (optional)

Raisins

ഉണക്ക മുന്തിരി - 10 Nos (optional)

Coriander powder

മല്ലിപ്പൊടി – 1 Tea spoon

Garam Masala

ഗരം മസാല - ½ Tea spoon

Ginger

ഇഞ്ചി – 1 Inch Piece

Garlic

വെളുത്തുള്ളി - 5 Cloves

Green chilli

പച്ചമുളക് – 4 Nos

Shallot

ചെറിയ ഉള്ളി - 6 Nos

Onion

സവോള - 2 Nos (medium size)

Thin coconut milk

കട്ടികുറഞ്ഞ തേങ്ങ പാല്‍ - 2 Cup

Thick coconut milk

കട്ടികൂടിയ തേങ്ങ പാല്‍ - ¾ Cup

Lemon Juice

നാരങ്ങനീര് - ½ Table spoon

Curry leaves

കറിവേപ്പില - 2 Sprigs

Coconut Oil

വെളിച്ചെണ്ണ – 4 Table Spoons

Salt

ഉപ്പ് - To taste
INSTRUCTIONS
Cut chicken into small pieces, clean it well and keep aside.

Fine chop ginger, garlic, onion, shallots and green chillies. Peel the potatoes and cut it into medium size cubes. Crush cardamom and peppercorns.

Heat 3 table spoons of coconut oil in a cooking pan (preferably non-stick). Put cinnamon, clove and cardamom. Stir it for a few seconds.

Reduce the heat to medium and add garlic, ginger and green chilly. Sauté it for a few seconds and then add finely chopped onions. Continue sautéing by adding a little salt.

When the onions turn golden brown, reduce the heat to low flame. Add 1 tea spoon of coriander powder and ½ tea spoon of garam masala. Stir it for a few seconds.

Add chicken pieces, potatoes, curry leaves (1 sprig) and ½ table spoon of lemon juice. Turn the heat to high and mix well. Stir occasionally for 5 minutes.

Pour 2 cups of thin coconut milk and combine well. Cook it covered until done. (Reduce the heat to medium when it starts boiling. Give a stir in between.)

When the chicken stew is cooked completely, add crushed peppercorns and combine it. Using a ladle, mash a few potato pieces so that the gravy becomes thicker. Now add ¾ cup of thick coconut milk and stir well. Remove from the heat when it starts boiling.

Heat 1 table spoon of coconut oil in a cooking pan. Fry cashew nuts and raisins separately until golden brown and add to the chicken stew. To the same pan (in the remaining oil), put shallots and curry leaves (1 sprig). Sauté until shallots become golden brown. Add this to the prepared stew and mix well.

Transfer the chicken stew into a serving dish and serve hot.
NOTES
1) You can use pepper powder instead of crushed pepper. But, I strongly recommend using freshly crushed black pepper for better taste and colour.
2) You can add vegetables such as beans, carrots and green peas to increase the nutritional value of this dish.
3) To avoid the raw odour of chicken, 1 table spoon of vinegar or lemon juice can be used when cleaning it.
4) Enjoy the chicken stew with appam, bread, idiyappam, rice, chappathi, paratha, etc.
Copyright © 2013 - 2023 Shaan Geo. All Rights Reserved.
According to me cooking is an equal-opportunity talent and I find that anybody can cook. It is not limited by the age, profession, caste, colour or creed of a person. What is needed is the love for cooking. For me the passion for cooking does not stop in the kitchen, when I travel, I continue to be inspired by eating in some of the best restaurants around the world.
15 comments on "
Chicken Stew

"