Kerala Chicken Curry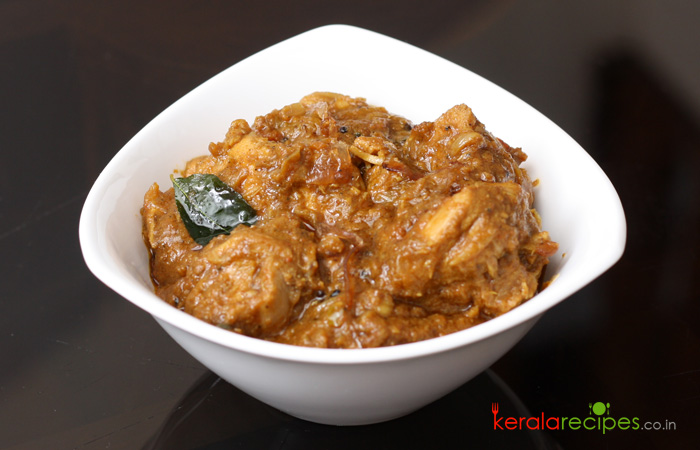 Kerala Chicken Curry
Kerala chicken curry is a spice-rich chicken preparation. It is the most basic curry made from chicken in Kerala. The use of spices and coconut oil makes it a truly special and traditional dish in Kerala. Chicken is prepared in a wide variety, depending on the region and culture of people. It is a food stuff which has good source of protein in it. This aromatic Kerala chicken curry is also known as 'Nadan kozhi curry'. You can make it as a delicacy for guests or to have something delicious on a weekend. This particular chicken preparation is an integral part of the Syrian Christian community in the state. There are different variations to how chicken curry is made in Kerala; however, this type is the most common and in fact, loved by all. Its gravy is so very spicy and intense. The curry goes well with chapatti, dosa, parotta, rice, appam and idiyappam. Well, it is unhealthy to prepare chicken with excess amount of oil such as in deep frying. Here you can enjoy a traditional Kerala chicken curry.
INGREDIENTS
Chicken - 1 kg

Kashmiri Chilli powder

കാശ്മീരി മുളകുപൊടി - 1 Table spoon

Coriander powder

മല്ലിപ്പൊടി - 2 Table spoon

Chicken masala

ചിക്കന്‍ മസാല - 1 Table spoon

Turmeric powder

മഞ്ഞള്‍പൊടി - 1 Pinch

Peppercorns

കുരുമുളക് - 1 Tea spoon

Ginger

ഇഞ്ചി - 2 Pieces (1 inch each)

Garlic

വെളുത്തുള്ളി - 6 Cloves

Green chilli

പച്ചമുളക് - 2 Nos

Shallot

ചെറിയ ഉള്ളി - 8 Nos

Onion

സവോള - 3 Nos

Tomato

തക്കാളി - 1 No

Curry leaves

കറിവേപ്പില - 3 Sprigs

Coconut Oil

വെളിച്ചെണ്ണ - 4 Table Spoon

Mustard seeds

കടുക് - 1 Tea spoon

Salt

ഉപ്പ് – as needed

Coconut milk

തേങ്ങ പാല്‍ - ¾ cup (optional)
INSTRUCTIONS
Cut the chicken into medium pieces, clean it well and keep aside.

Heat kashmiri chilli powder, coriander powder, chicken masala and turmeric powder in a frying pan on a low flame.

Grind this roasted mix with peppercorns, ginger (1 inch piece), garlic (3 cloves), green chilli, curry leaves (2 sprigs), salt (1 tea spoon) and a little water into a paste.

Marinate chicken with the ground paste and keep aside for minimum 30 minutes.

Crush the ginger (1 inch piece) and garlic (3 cloves). Chop onion and slice shallot & tomato.

Heat 3 table spoon coconut oil in a cooking pan (preferably non-stick), put crushed garlic & ginger, then finely chopped onion and saute till brown. Add salt to taste.

To this add marinated chicken pieces and sliced tomato. Stir occasionally for 5 minutes. Add 1 cup of water and cook it covered till done. (reduce the flame to medium when it starts boiling).

Add coconut milk (optional) and remove from the flame.

Heat 1 table spoon coconut oil in a cooking pan and put mustard seeds. When it splutters, to this add shallots and curry leaves (1 sprig). Saute till brown. Add this to the prepared chicken.

Kerala chicken curry is ready for serving. Serve hot.
NOTES
1) To avoid raw odour of chicken, 1 table spoon of vinegar or lemon juice can be used, when cleaning the chicken.
2) Adjust the spices according to your taste.
Copyright © 2013 - 2023 Shaan Geo. All Rights Reserved.
According to me cooking is an equal-opportunity talent and I find that anybody can cook. It is not limited by the age, profession, caste, colour or creed of a person. What is needed is the love for cooking. For me the passion for cooking does not stop in the kitchen, when I travel, I continue to be inspired by eating in some of the best restaurants around the world.
54 comments on "
Kerala Chicken Curry

"