Prawns Roast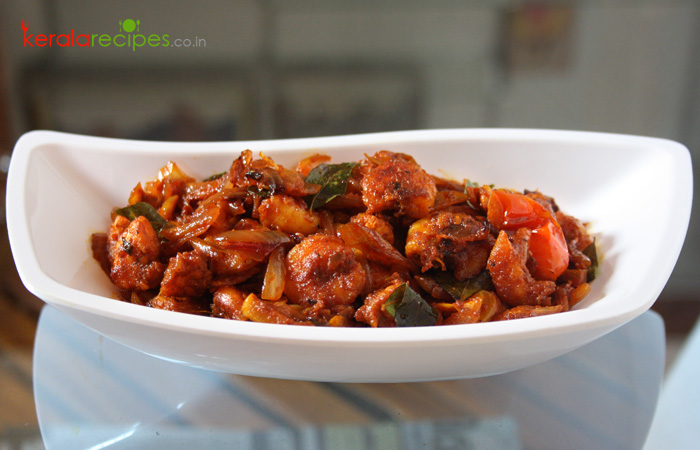 Watch Video (മലയാളം)
Prawns Roast
Prawns roast – a yummy non-veg side dish which goes well with rice, chappathi, idiyappam etc. The steps might seem long, but it is an easy to prepare dish. Here you go with the prawns roast recipe.
INGREDIENTS
Shelled & deveined Prawns / Shrimp

ചെമ്മീന്‍ വൃത്തിയാക്കിയത് - 200 gm

Ginger-garlic paste

ഇഞ്ചി-വെളുത്തുള്ളി അരച്ചത്‌ - 1 Table spoon

Chilli powder

മുളകുപൊടി - 1+2 Tea spoon

Turmeric powder

മഞ്ഞള്‍പൊടി - 1 Pinch

Garlic

വെളുത്തുള്ളി - 10 Cloves

Onion

സവോള - 2 Nos

Tomato

തക്കാളി - 1 No

Curry leaves

കറിവേപ്പില - 2 Sprigs

Cooking oil

എണ്ണ - 3 Table spoon

Salt

ഉപ്പ് - To taste
INSTRUCTIONS
Clean the prawns and keep aside.

Ginger-garlic paste, chilli powder (1 tea spoon) and turmeric powder should be made as paste by adding a little salt.

Marinate prawns with the paste and keep for minimum 30 minutes.

Slice onions, chop garlic and dice tomatoes.

Heat 2 table spoon of cooking oil in a frying pan and shallow fry marinated prawns by turning both sides on a low heat. This will take about 8 minutes (cooking time may vary depends on the size of the prawns used).

Heat remaining cooking oil (1 table spoon) in the same pan and put chopped garlic. Stir it for few seconds. Add sliced onions and salt. Saute it in medium heat until golden brown.

Bring down the heat to low, add 2 tea spoon of chilli powder and stir it for 1 minute.

To this, add tomatoes and curry leaves. Stir occasionally in a medium heat, until the tomatoes cooked well.

When it is done, add fried prawns and combine well. Cook it in a low heat about 3 minutes by stirring occasionally.

Prawns roast is ready, remove from the pan and serve hot.
NOTES
Adjust the level of spices to suit your taste.
Copyright © 2013 - 2023 Shaan Geo. All Rights Reserved.
According to me cooking is an equal-opportunity talent and I find that anybody can cook. It is not limited by the age, profession, caste, colour or creed of a person. What is needed is the love for cooking. For me the passion for cooking does not stop in the kitchen, when I travel, I continue to be inspired by eating in some of the best restaurants around the world.
37 comments on "
Prawns Roast

"