Kerala Beef Fry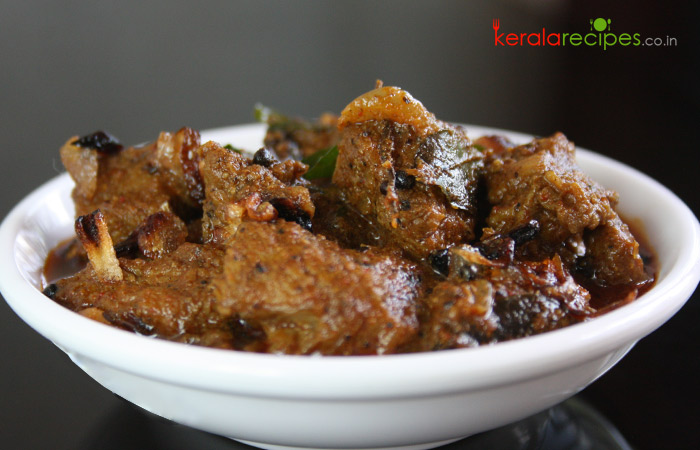 Kerala Beef Fry
Kerala beef fry – an inevitable dish in "kallushap" (toddy shops in Kerala). Most wanted dish because of its highly spicy and stimulating taste. Those served in "kallushap" is very spicy but here we prepare it in a tolerant level. Anyway adjust the spices according to your taste.
INGREDIENTS
Beef - 1 kg

Coriander powder

മല്ലിപ്പൊടി - 1 Table Spoon

Chilli powder

മുളകുപൊടി - 1 Table spoon

Meat Masala

ഇറച്ചി മസാല - 1 Table spoon

Pepper powder

കുരുമുളകുപൊടി - 1 Tea Spoon

Turmeric powder

മഞ്ഞള്‍പൊടി - ½ Tea spoon

Ginger

ഇഞ്ചി - 1 Inch piece

Garlic

വെളുത്തുള്ളി - 5 Cloves

Shallot

ചെറിയ ഉള്ളി - 8 Nos

Curry leaves

കറിവേപ്പില - 3 Sprigs

Thinly sliced Coconut

തേങ്ങാക്കൊത്ത് - ¼ Cup (Optional)

Mustard seeds

കടുക് - ½ Tea Spoon

Ghee

നെയ്യ് - 3 Table spoon

Salt

ഉപ്പ് – To taste
INSTRUCTIONS
Cut beef into small pieces, wash and drain it.

Slice shallots. Chop ginger and garlic.

Pressure cook beef along with coriander powder, chilli powder, turmeric powder and salt.

When you hear the first whistle, reduce the flame to low and wait for the second whistle. Turn of the fire and let the pressure settle.

When the pressure settles, open the lid and heat until it is almost dry.

Heat 3 table spoon of ghee in a cooking pan and put mustard seeds. When the mustard seeds begin to sputter, reduce the flame to medium. Put thinly sliced coconut pieces and fry it for 2 minute (optional).

Add garlic, ginger, shallots and curry leaves one by one. Saute it by adding a little salt.

When it turns golden brown, put 1 table spoon of meat masala and stir it for 1 minute.

Now, add cooked beef into it and mix it well. Heat until it is dry (stir occasionally). When it becomes dry put 1 tea spoon of black pepper powder and combine it well. Taste for salt.

Kerala beef fry is ready for serving. Transfer to the serving dish. Garnish it with coriander leaves and onion slices (if required).
NOTES
Adjust the spices according to your taste.
Copyright © 2013 - 2023 Shaan Geo. All Rights Reserved.
According to me cooking is an equal-opportunity talent and I find that anybody can cook. It is not limited by the age, profession, caste, colour or creed of a person. What is needed is the love for cooking. For me the passion for cooking does not stop in the kitchen, when I travel, I continue to be inspired by eating in some of the best restaurants around the world.
20 comments on "
Kerala Beef Fry

"