Squid Roast (Koonthal Roast)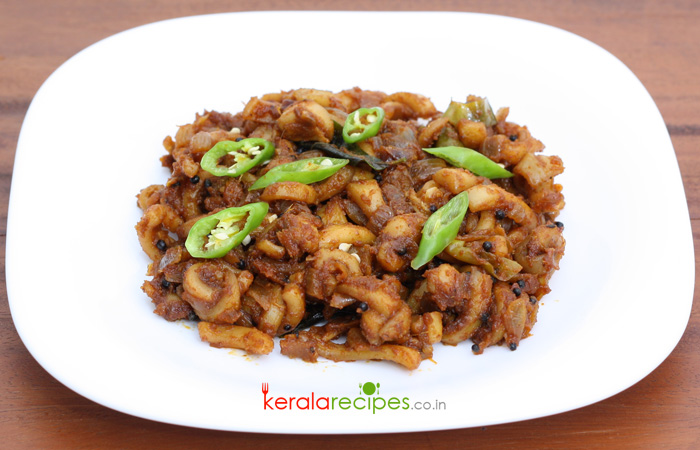 Squid Roast (Koonthal Roast / Kanava Roast)
Squid is one of the all-time seafood delicacies. Squid roast is also called Koonthal roast or Kanava roast in Kerala. It is spicy and of course, traditional! Squid roast is normally dry; however, you can also do this recipe in semi gravy form. It is a very popular dish in Kerala, especially North Kerala. Koonthal roast is easy to prepare recipe yet it is very tasty. Almost everyone will love the flavor of this awesome squid preparation. When it comes to making this dish, slow cooking is the rule. Besides, it is ideal to use a clay pot or a deep pan to prepare this Squid roast. A nonstick pan also works well. Coming to squid, it is the choice of healthy people. The spicy Koonthal roast is ideal for those who wish to give their body the nutrients needed. Squid is a rich source of protein and helps largely in weight loss. Moreover, it offers vitamins and minerals including calcium, zinc, phosphorus, Vitamin B12, and Vitamin C. Overall, the spicy Kanava roast is not only a delicacy but a good nutritional addition to your diet.
INGREDIENTS
Squid

കൂന്തല്‍ / കണവ Cleaned – ½ kg

Ginger

ഇഞ്ചി – 2 Inch piece

Garlic

വെളുത്തുള്ളി – 10 Cloves

Green chilli

പച്ചമുളക് – 2 Nos

Onion

സവോള – 2 Nos

Curry leaves

കറിവേപ്പില – 1 Sprig

Lemon Juice

നാരങ്ങനീര് – ½ Table spoon

Thinly sliced Coconut

തേങ്ങാക്കൊത്ത് – ¼ Cup (Optional)

Coriander powder

മല്ലിപ്പൊടി – 1 Table Spoon

Chilli powder

മുളകുപൊടി – ¾ Table spoon

Garam Masala

ഗരം മസാല – 1 Tea spoon

Pepper powder

കുരുമുളകുപൊടി – ½ Tea Spoon

Turmeric powder

മഞ്ഞള്‍പൊടി – 1 Pinch

Mustard seeds

കടുക് – 1 Tea Spoon

Cooking oil

എണ്ണ – 3 Table spoons

Water

വെള്ളം – ¾ Cup

Salt

ഉപ്പ് – To taste
INSTRUCTIONS
Wash and clean the Squid (Koonthal / Kanava) well. Cut it into small pieces and keep aside.

Chop onion, ginger, garlic and green chillies.

Heat 3 table spoon of cooking oil in a pan and put mustard seeds. When they begin to sputter, reduce the flame to medium. Add thinly sliced coconut pieces and fry them for 2 minutes (optional).

Add chopped garlic, ginger and green chillies. Stir for a few seconds and then add chopped onion. Sauté the mixture by adding a little salt.

When the ingredients turn golden brown, reduce the flame to low. Add coriander powder (1 table spoon), chilli powder (¾ table spoon), turmeric powder (1 pinch) and garam masala (1 tea spoon). Stir for a minute.

Now, add ¾ cup of water, lemon juice and salt to taste. Turn the heat to high and mix well. Now, add the Squid (Koonthal / Kanava) pieces. When it starts boiling, turn the heat to low and cook it covered till done (about 15 to 20 minutes). Don't forget to give a stir in between.

When it is done, open the lid and heat until the dish is almost dry (if there is excess water). Stir occasionally. Add ½ tea spoon of black pepper powder and mix well. Taste the dish for salt.

Koonthal roast (Squid roast) is ready for serving. Transfer the Kanava roast to the serving dish. Garnish it with coriander leaves and onion slices (if required).
NOTES
1) Adjust the spices according to your taste.
2) Garam masala can be replaced by meat masala or chicken masala.
3) Squid takes a little longer time to cook. So you can also pressure cook it by adding half the quantity of above mentioned powdered ingredients, ¼ cup of water and salt. Then follow the same steps mentioned above. (In step 5; add only the remaining portion of the powdered ingredients. In step 6, add the cooked squid along with the stock (water in which it is cooked). Cook the Squid roast for 5 minutes without adding extra water.)
Copyright © 2013 - 2023 Shaan Geo. All Rights Reserved.
According to me cooking is an equal-opportunity talent and I find that anybody can cook. It is not limited by the age, profession, caste, colour or creed of a person. What is needed is the love for cooking. For me the passion for cooking does not stop in the kitchen, when I travel, I continue to be inspired by eating in some of the best restaurants around the world.
20 comments on "
Squid Roast (Koonthal Roast)

"