Kerala Fish Curry – with Coconut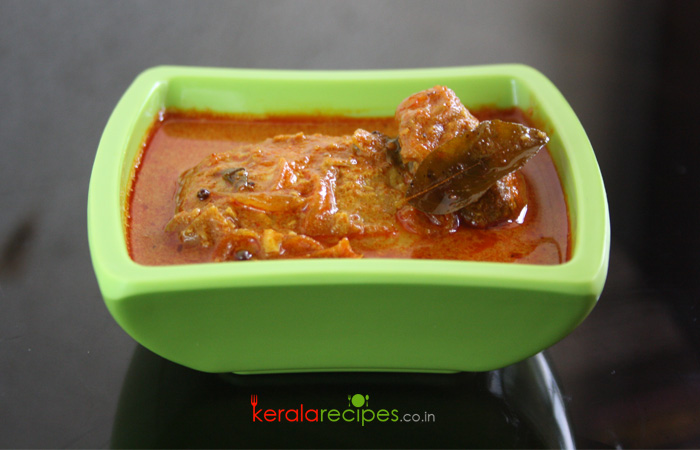 Kerala Fish Curry - with Coconut
Kerala is one of the top producers of fish and coconut in India. Naturally fish and coconut plays a major role in malayalees food culture. Here is the recipe of a Kerala fish curry with coconut. Hope you will like it.
INGREDIENTS
Fish

any - ½ kg

Chilli powder

മുളകുപൊടി - 1 Table spoon

Turmeric powder

മഞ്ഞള്‍പൊടി - 1 Pinch

Tamarind

പുളി - Lemon size

Ginger

ഇഞ്ചി - 1 Inch piece

Shallot

ചെറിയ ഉള്ളി - 3 Nos

Tomato

തക്കാളി - 1 No (optional)

Curry leaves

കറിവേപ്പില - 1 Sprig

Grated coconut

തേങ്ങ ചിരണ്ടിയത് - 1½ Cup

Water

വെള്ളം - 3½ Cup

Coconut Oil

വെളിച്ചെണ്ണ - 1 Table Spoon

Salt

ഉപ്പ് - To taste
INSTRUCTIONS
Clean the fish and keep aside.

Dissolve tamarind in 3 cup of water. Remove the seeds and any pieces that have not dissolved with the water.

Slice tomato (optional) and chop ginger.

Grind grated coconut and shallots well into a fine paste by adding ½ cup of water.

Cook fish pieces (about 10 - 15 minutes) in a covered vessel along with tamarind dissolved water, chilli powder, turmeric powder, tomato (optional), ginger, curry leaves and salt. (When it starts boiling, turn the flame to low).

When it is done, add the ground paste and combine it. Taste for salt and wait till it boils.

Remove from the flame and drizzle 1 table spoon coconut oil over the prepared fish curry.

Let the curry remains in the cooking pan for minimum 30 minutes, allowing all the spices to steep into the fish.
NOTES
If you don't have tamarind, use kukum star (kudam puli) as an alternative. But I recommend to use tamarind for this coconut based fish curry.
Copyright © 2013 - 2023 Shaan Geo. All Rights Reserved.
According to me cooking is an equal-opportunity talent and I find that anybody can cook. It is not limited by the age, profession, caste, colour or creed of a person. What is needed is the love for cooking. For me the passion for cooking does not stop in the kitchen, when I travel, I continue to be inspired by eating in some of the best restaurants around the world.
16 comments on "
Kerala Fish Curry – with Coconut

"