Dry Red chilli Chicken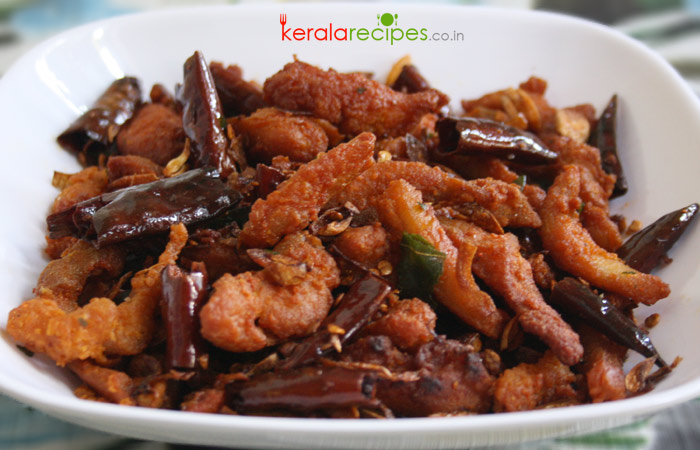 Dry Red chilli Chicken
Dry red chilli chicken – another successful experiment with chicken. As its name says it is a variety chicken preparation with dry red chillies. It can be served as a starter or snack and also goes well with rice.
INGREDIENTS
Chicken

Boneless - ½ kg

Dry red chillies

വറ്റല്‍മുളക് - 12 Nos

Gram

flour / Corn flour

കടലമാവ്/കോണ്‍ഫ്ളോര്‍ - 6 Table spoon

Ginger

ഇഞ്ചി - 2 Inch piece

Garlic

വെളുത്തുള്ളി - 10 Cloves

Shallot

ചെറിയ ഉള്ളി - 15 Nos

Curry leaves

കറിവേപ്പില - 2 Sprigs

Lemon juice

നാരങ്ങാനീര് - 1 Table spoon

Chilli powder

മുളകുപൊടി - 1¼ Table spoon

Turmeric powder

മഞ്ഞള്‍പൊടി - 1 Pinch

Cooking oil

എണ്ണ - to deep fry

Salt

ഉപ്പ് – To taste
INSTRUCTIONS
Wash and clean the chicken. Cut it (length wise) into small pieces.

Grind ginger (1 inch piece), garlic (5 cloves), curry leaves (1 sprig), lemon juice, salt , chilli powder (1 table spoon) and turmeric powder into a paste.

Marinate chicken pieces the ground paste for minimum 30 minutes.

Slice remaining garlic, ginger and shallots.

Add gram/corn flour into the marinated chicken pieces and mix it well by adding 4 table spoon of water.

Heat cooking oil in a pan and deep fry the chicken pieces (till it turns brown). Keep it aside.

Heat 2 table spoon of oil in a pan. Put broken dry red chillies (reduce the flame) and stir till it turns dark brown. Put garlic, ginger, shallots, curry leaves and salt into it and saute till it turns golden brown.

Put ¼ table spoon of chilli powder and mix it well. Now, add the fried chicken into it and combine well.

Remove from the flame and transfer to the serving dish.
NOTES
Serve with a dollop of mayonnaise.
Copyright © 2013 - 2023 Shaan Geo. All Rights Reserved.
According to me cooking is an equal-opportunity talent and I find that anybody can cook. It is not limited by the age, profession, caste, colour or creed of a person. What is needed is the love for cooking. For me the passion for cooking does not stop in the kitchen, when I travel, I continue to be inspired by eating in some of the best restaurants around the world.
16 comments on "
Dry Red chilli Chicken

"