Kerala Fish Fry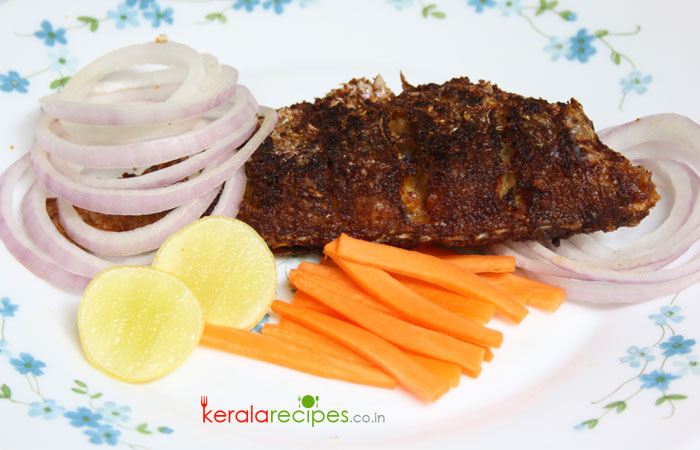 Kerala Fish Fry
Kerala fish fry is quite spicy, like most Kerala non-vegetarian dishes. For an average malayalee, a lunch is not complete without a fish fry or curry. It plays a major role in Kerala cuisine. Fish is a protein food with fewer calories than other meat dishes and it fits perfectly into a healthy diet. Try this recipe and post your comments.
INGREDIENTS
Fish

മീൻ - ½ kg (Any fish)

Ginger

ഇഞ്ചി - 1 Inch piece

Garlic

വെളുത്തുള്ളി - 8 Cloves

Black Pepper

കുരുമുളക് - 1 Tea Spoon

Chilli powder

മുളകുപൊടി - 1½ Table Spoon

Turmeric powder

മഞ്ഞൾപൊടി - 1 pinch

Curry leaves

കറിവേപ്പില - 1 Sprig

Mustard seeds

കടുക് - ½ Tea Spoon

Lemon juice

നാരങ്ങാ നീര് - ½ Table Spoon

Coconut Oil

വെളിച്ചെണ്ണ - 3 Table Spoon

Salt

ഉപ്പ് – to taste
INSTRUCTIONS
Whole steaks or cut the fish into equal size pieces. Clean and drain it well.

Grind ginger, garlic, pepper, chilli powder, turmeric powder, mustard seeds, curry leaves, lemon juice and salt into a paste.

Marinate fish pieces with the ground paste and keep it aside for at-least 30 minutes.

Heat coconut oil in a frying pan and fry marinated fish pieces by turning both sides on a medium flame.

Kerala fish fry is ready for serving. Serve it hot with onion rings and lemon wedges.
NOTES
1) Any fish of your choice can be used to make this easy kerala fish fry.
2) If the fish pieces are large, make shallow cut marks on it with a sharp knife, so that the marinade is absorbed easily.
Copyright © 2013 - 2023 Shaan Geo. All Rights Reserved.
According to me cooking is an equal-opportunity talent and I find that anybody can cook. It is not limited by the age, profession, caste, colour or creed of a person. What is needed is the love for cooking. For me the passion for cooking does not stop in the kitchen, when I travel, I continue to be inspired by eating in some of the best restaurants around the world.
10 comments on "
Kerala Fish Fry

"