Garlic Pickle (Veluthulli Achar)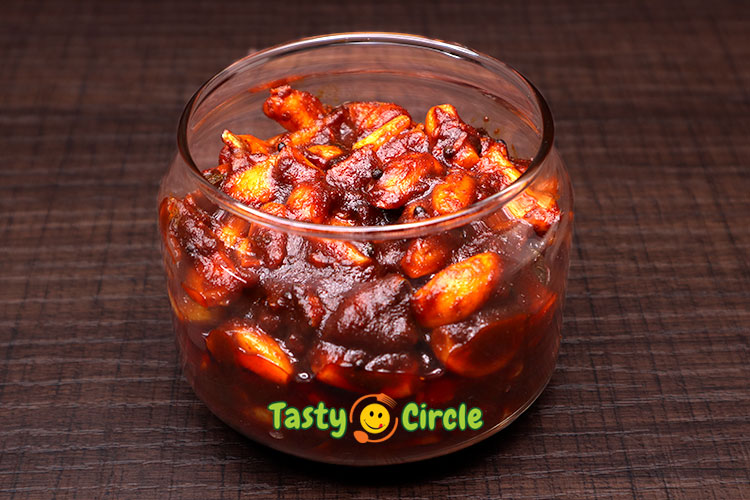 Watch Video (മലയാളം)
Garlic Pickle (Veluthulli Achar)
Pickles are a staple dish in any Indian household. Garlic Pickle (Veluthulli Achar) is one of the most desired and easy to prepare dish. To store the it for a longer period, it is always advises to refrigerate them. Always store it in an airtight container for longer shelf-life and if you are keeping it in the Fridge, do it only after 2 days of setting period. Addition of Sesame Oil also increases the longevity. The only major task in preparing Garlic Pickle is peeling and cleaning of Garlics. Once that is done, the rest process can be completed within 5 minutes.
INGREDIENTS
Sesame Oil / Gingelly Oil / Coconut Oil

നല്ലെണ്ണ / വെളിച്ചെണ്ണ - ½ Cup

Mustard Seeds

കടുക് - ½ Teaspoon

Ginger

ഇഞ്ചി - 2 Inch Piece

Green Chilli

പച്ചമുളക് - 2 Nos

Curry Leaves

കറിവേപ്പില - 2 Sprigs

Garlic

വെളുത്തുള്ളി - 200gm (after cleaning)

Salt

ഉപ്പ് - 1½ Teaspoon

Turmeric Powder

മഞ്ഞള്‍പൊടി - ½ Teaspoon

Chilli Powder

മുളകുപൊടി - 1 Tablespoon

Kashmiri Chilli Powder

കാശ്മീരി മുളകുപൊടി - 3 Tablespoons

Asafoetida Powder

കായം പൊടി - ½ Teaspoon

Fenugreek Powder

ഉലുവപ്പൊടി - ¼ Teaspoon

Brown Sugar / Jaggery / White Sugar

ബ്രൗൺ ഷുഗർ / ശർക്കര / പഞ്ചസാര - ½ Teaspoon

Vinegar

വിനാഗിരി - 6 Tablespoons
INSTRUCTIONS
Heat a pan well and add ½ cup of Gingelly Oil OR Sesame Oil OR Coconut Oil into it. When the Oil is hot, add ½ teaspoon of Mustard Seeds and let it splutter. Turn down the flame to medium and add ½ inch piece of Ginger (finely chopped), 2 Green Chillies (chopped) and 2 sprigs of Curry Leaves (chopped). Sauté for 10 seconds.

Into it, add 200 gm of peeled and cleaned Garlic. Sauté it for 1½ - 2 minutes in a medium flame.

Add 1½ teaspoon of Salt, ½ teaspoon of Turmeric Powder, 1 tablespoon of Chilli Powder, 3 tablespoon of Kashmiri Chilli Powder, ½ teaspoon of Asafoetida Powder and ¼ teaspoon of Fenugreek Powder. Roast for about 2 minutes till the raw flavour of masalas settle.

Add ½ teaspoon of Brown Sugar OR White Sugar OR Jaggery to balance the flavours. Add 6 tablespoon of Vinegar and combine well. Stir for about 1 minute and turn off the flame. Let the Garlic Pickle to cool completely.
NOTES
There are 5 things to be kept in mind.
DO NOT transfer the hot pickle into the storage container. Keep it in the same pan in which it was made for 2-3 hours. Let it cool down and then transfer to another container.
Since we are using Vinegar, DO NOT use Iron or Aluminium vessels for making or storing the Veluthulli Achar.
Store it in a dry container. If possible, try to store in a sun-dried container. Even slight moisture in the container damages the Garlic pickle.
DONOT use wet spoon to take the pickle. Always use a dry spoon for handling it.
To increase the shelf-life, refrigerate the Veluthulli Achar Store it in a glass jar or earthenware for 2-3 days; let it set and then refrigerate it from the next day onwards.
Copyright © 2013 - 2023 Shaan Geo. All Rights Reserved.
According to me cooking is an equal-opportunity talent and I find that anybody can cook. It is not limited by the age, profession, caste, colour or creed of a person. What is needed is the love for cooking. For me the passion for cooking does not stop in the kitchen, when I travel, I continue to be inspired by eating in some of the best restaurants around the world.
4 comments on "
Garlic Pickle (Veluthulli Achar)

"