Kerala Fish Curry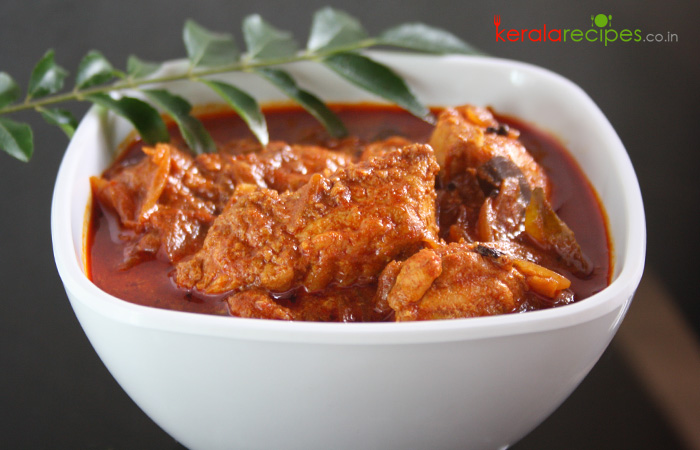 Kerala Fish Curry / Meen Curry – without coconut
Kerala fish curry or Meen curry can be prepared in many ways. Here you can try a traditional fish curry recipe without using coconut or coconut milk. This dish is also called as toddy shop fish curry. Fish is a good source of nutritional contents like Omega-3 fatty acids, proteins, minerals and vitamins. Usually Kerala fish curry (meen curry) is prepared in open mouthed earthenware pot for better taste. It can be prepared by adding coconut or without using coconut.
INGREDIENTS
Fish

½ kg (any fish)

Kashmiri Chilli powder

കാശ്മീരി മുളകുപൊടി - 2 Table spoons

Chilli powder

മുളകുപൊടി - ½ Table spoon

Turmeric powder

മഞ്ഞള്‍പൊടി - 1 Pinch

Brindleberry / Kukum star

കുടംപുളി - 3 Pieces

Ginger

ഇഞ്ചി - 1 Inch Piece

Garlic

വെളുത്തുള്ളി - 6 Cloves

Shallot

ചെറിയ ഉള്ളി - 6 Nos

Curry leaves

കറിവേപ്പില - 1 Sprig

Fenugreek seeds

ഉലുവ - ½ Tea Spoon

Mustard seeds

കടുക് - ½ Tea Spoon

Coconut Oil

വെളിച്ചെണ്ണ - 2½ Table Spoon

Salt

ഉപ്പ് – to taste
INSTRUCTIONS
Clean the fish and keep aside.

Soak Brindleberry in 2 cup of hot water with little salt added in it.

Chop shallot, ginger and garlic finely.

Kashmiri chilli powder, normal chilli powder and turmeric powder should be made as a paste adding little water.

Heat 2 table spoon coconut oil in a cooking pan (recommends open mouthed earthenware pot), put mustard and fenugreek seeds. When it splutters, to this add finely chopped shallot, ginger & garlic and stir well.

When it becomes golden brown, reduce the flame and put chilli and turmeric powder paste into it. Stir it well in a very low heat for few minutes (till the oil starts appearing).

Add socked Brindleberry and water to the pan and allow to boil.

When it boils put fish and add salt to taste.

Reduce the flame and cook till done (it takes 10 to 15 minutes). When it is done add curry leaves and ½ table spoon coconut oil & remove from the flame after 1 minute.

Kerala fish curry is ready. Let the curry remains in the cooking pan for a few hours, allowing all the spices to steep into the fish.
NOTES
1) Don't stir once fish is cooked.
2) Remember to spoon the Brindleberry / Kukum star (Kudampuli) pieces out after few hours.
Copyright © 2013 - 2023 Shaan Geo. All Rights Reserved.
According to me cooking is an equal-opportunity talent and I find that anybody can cook. It is not limited by the age, profession, caste, colour or creed of a person. What is needed is the love for cooking. For me the passion for cooking does not stop in the kitchen, when I travel, I continue to be inspired by eating in some of the best restaurants around the world.
134 comments on "
Kerala Fish Curry

"